Cyclone Gonu packing winds of up to 260km an hour advanced on Tuesday towards the oil-producing Gulf state of Oman where it was expected to make landfall within 24 hours.
The sultanate's weather service said the cyclone formed in the Indian Ocean and reached the Gulf of Oman on Monday, some 280km off the east coast of Oman.
©Weather Underground
The Musandam peninsula facing the Hormuz Straits passage for Gulf oil exports will also be affected, it said.
"The cyclone is advancing toward the Omani coast at a speed of 12 kilometres an hour, accompanied by torrential rains, storms and winds at the centre of the cyclone of 115 to 140 knots, or 212 to 260 kilometres an hour," it said.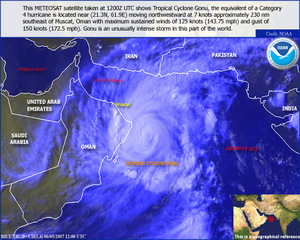 ©OSEI
Oman has evacuated 7 000 people from coastal areas, police said. Residents of the island of Masirah in the Arabian Sea as well as of Oman's eastern coastline have sought refuge on higher ground.
The army, police and civil defence have all been mobilised.
The Saudi weather service said it did not expect any "direct impact on the centre or east of the kingdom" that are the oil-producing regions. Winds of 40km an hour and 2.5-metre waves are forecast for Wednesday and Thursday.
World oil prices rose on Monday amid fears of potential cyclone damage to oil infrastructure. But prices were mixed in Asian trade on Tuesday, after sharp gains made overnight on continued concerns about tight US petrol supplies.
Dealers said the market was also keeping an eye out on the approaching Atlantic hurricane season after US weather experts and forecasters predicted an "active" season ahead.