The first named storm of the year formed Wednesday off the southeastern U.S. coast, more than three weeks before the official start of the Atlantic hurricane season, forecasters said.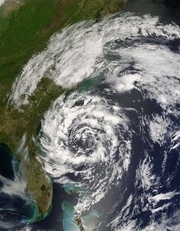 ©NASA
Subtropical storm Andrea, the first named storm of the year, off Florida and Georgia at 11 a.m. EDT on Tuesday, May 8, 2007.
Subtropical Storm Andrea had top sustained winds around 45 mph Wednesday afternoon and didn't appear to be much of a threat, the National Hurricane Center in Miami said. Still, a tropical storm watch was issued for parts of Georgia and Florida, meaning tropical storm conditions are possible within 36 hours.
"We're not looking at this system strengthening significantly," said Richard Pasch, a senior hurricane specialist at the center.
The storm's wind, however, has been blowing smoke from wildfires across Georgia and Florida.
It didn't appear the wind would hinder firefighting efforts, said Jim Harrell, a spokesman for Florida's Division of Forestry. But those battling the blazes won't get much immediate help from rain - forecasters said no significant downpours were expected over land through at least Thursday morning. The storm's lightning could also spark more fires, meteorologists said.
At 2 p.m. EDT, Andrea was centered about 100 miles southeast of Savannah, Ga., and about 135 miles northeast of Daytona Beach. The storm was moving west at about 3 mph.
Wind-driven waves have been causing coastal erosion in South Carolina, Georgia and Florida, and the ocean has lapped at beachfront homes and condominiums.
Coast Guard officials in South Carolina said they had rescued one of two kayakers who had been missing since Tuesday when they were seen leaving Seabrook Island, S.C. Jeremy Scott, 28, of Atlanta, was found about five miles east of Fripp Island. Authorities were continuing to search for Stephen Lee, 27, of Atlanta.
Subtropical systems are hybrid weather formations that are usually weaker than hurricanes and tropical storms. They are kind of a half-breed, sharing characteristics of tropical systems, which get their power from warm ocean water at their centers, and more typical bad weather that forms when warm and cold fronts collide, Pasch said.
Forecasters said Andrea has the warm center characteristic of tropical storms but its core is not particularly well defined. In addition, its winds are farther out from the center than they would be in a tropical storm.
Typically, about one subtropical storm forms each year, but they often turn into tropical storms. That doesn't appear to be the case with Andrea, senior hurricane specialist Jack Beven said. It only has a small area of warmer water to draw energy from and is facing dry wind.
He said it wasn't unusual for the storm to form in May, outside the hurricane season that starts June 1 and end Nov. 30. Eighteen tropical storms and four hurricanes have been recorded in that month since 1851; the earliest hurricane had made landfall on the U.S. was Alma in northwest Florida on June 9, 1966.
"What we call the hurricane season is a totally manmade creation. Nature doesn't always pay attention to that," Beven said.
Private and university forecasters have predicted that the 2007 season will be especially active, producing up to 17 tropical storms and hurricanes and a "well above average" possibility of at least one striking the U.S. The federal government plans to release its predictions May 22.
The Atlantic basin has been in a busy period for hurricanes since 1995. Some federal forecasters believe this is part of a natural cycle. But the Intergovernmental Panel on Climate Change, a U.N.-sponsored group, says global warming caused by humans has led to an increase in stronger hurricanes.