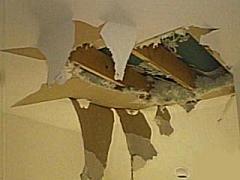 ©Signs of the Times
Holland, Pennsylvania -- Around Pennsylvania this winter, there have been icy conditions both outside and in.
A Philadelphia-area family was jolted awake Friday when a chunk of ice fell from the sky and crashed through the roof of their home.
The ice tore through the roof and attic floor before landing in the home's foyer about 1 a.m.. The chunk landed between the married couple who lives there, Philadelphia TV station WCAU reported. No one was injured.
Authorities think the chunk may have come from an airplane flying overhead. The police department was investigating what took place, and will consult with the Federal Aviation Administration to figure out if a plane's evening route matches the location of the incident.
No one was injured, but there was substantial damage to the home, which is evident by the gaping hole in the roof.
There were minor electrical problems because the ice chunk smashed into a chandelier, the family said.
It's the second time in about a month that a Philadelphia-area home was smacked by ice. The earlier incident was also blamed on a passing airliner.