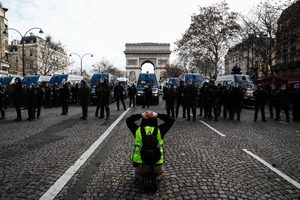 L'elite contre le peuple
Few people have the imagination for reality.
- Johann Wolfgang von Goethe
Recent Comments
Insider trading? What's good enough for Martha Stewart is good enough for him.
---
It would be wise to buy stocks in the yellow vest production. Likely Buffet has that market locked down!
---
Maybe ... not only [Link] [Link] Maybe we can walk [Link]
---
Furthermore, he continued with the extremely worrying statement that: In 2014, the trust prescribed antidepressants to a one-year-old boy,...
---
So, according to ABC7 this woman has exhibited the same behaviour on the same train in the past. Who is the judge who thinks he made a good...