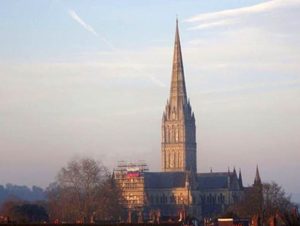 Salisbury Cathedral, 17 February 2019. Did you know? The spire is 123 meters tall, and famous throughout Europe...
The spirit of liberty is the spirit which is not too sure that it is right; the spirit of liberty is the spirit which seeks to understand the minds of other men and women; the spirit of liberty is the spirit which weighs their interests alongside its own without bias; the spirit of liberty remembers that not even a sparrow falls to earth unheeded; the spirit of liberty is the spirit of Him who, near two thousand years ago, taught mankind that lesson it has never learned, but has never quite forgotten; that there may be a kingdom where the least shall be heard and considered side by side with the greatest.
- Judge Learned Hand
Recent Comments
Facebook, needs to be shutdown because of its bias towards certain groups of people it doesn't like because of their veiws, hang on isn't that...
---
Coincidence? Certainly not. Ask yourself if it is believable that lynching is a significant issue in the US, worthy of an anti lynching bill?...
---
"help the United Nations achieve its goal of "zero hunger by 2030." - quite simple. Remove the practiced starvation policies. Remove "humanitarian...
---
I think the kid and his attorney are on the right track. This is a nuisance lawsuit. At some point the big media companies will settle with him to...
---
Very poorly written, poorly reasoned article from Radio Free Europe, but what else can be expected from a propaganda outlet?