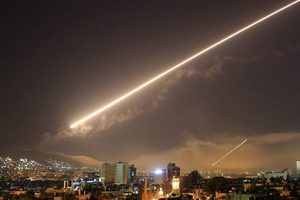 Syrian air defense systems protecting Damascus - the oldest continuously-inhabited city on Earth - from Western airstrikes, 14 April 2018
All truths are easy to understand once they are discovered; the point is to discover them.
- Galileo Galilei
Recent Comments
We do not know AI consciousness, even if it exists. What experience of time would they have? Maybe completely different than our experience. Maybe...
---
There's a recent episode of Adam Ruins Everything that was about the revolutionary war. Amazing stuff: the rich were the ones who wanted to be...
---
The Clintons are so well-protected that all one can do is take down their flunkies. They will never be touched, guaranteed. Note that the only...
---
OPCW = Old Pracks Cants and Warmongers. The fools run the ward for insanity.
---
I suspect that there's motivation to downplay this behind the 10-day sentence. Due to lack of adequate personnel and/or budget, she'd probably...