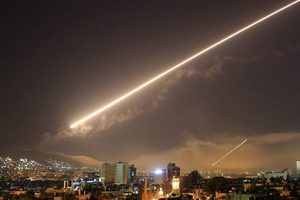 Syrian air defense systems protecting Damascus - the oldest continuously-inhabited city on Earth - from Western airstrikes, 14 April 2018
In the Truth there is no news, and in the News there is no truth
- Popular Russian saying under Soviet Communism
Recent Comments
" Portman was nominated to receive the prize, often called the 'Jewish Nobel,' last November for "outstanding professional achievement and...
---
Typical Israeli double standards. And the US gov't, thoroughly infested as it is with bought-and-paid-for AIPAC lackeys and those with dual...
---
LOL Get your story straight. You are afraid to use them. Their weakness will become obvious. When you are bluffing with a 2 of clubs, you usually...
---
Sustainable agricultural practice has become unsustainable. In the rush for profit, life takes a back seat. At this pace, future generations will...
---
And all of them will depend on easily duped (or even disabled) satellite navigation. I know that many pilots depend on it too nowadays, but at...