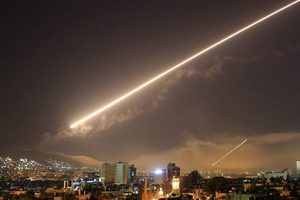 Syrian air defense systems protecting Damascus - the oldest continuously-inhabited city on Earth - from Western airstrikes, 14 April 2018
All truths are easy to understand once they are discovered; the point is to discover them.
- Galileo Galilei
Recent Comments
The social aspect makes it extra hard to unplug for many. I'm still astonished by the mother's groups livid that their kid's teachers would have...
---
So Canada is so on top of things they sold all their gold, duh! The announcement read like it was a brilliant move. You know buy hi sell lo
---
this is the 23rd anniversary of my awakening, this was the day I realized it's all been a gov't sponsored illusion and lie. So glad I was home...
---
What's the penalty for hiring illegals?
---
Polio vaccines contaminated with SV40 This is well documented in Edward T. Haslam's 2007 book, "Dr. Mary's Monkey," ISBN 978-1-937584-59-7 This...