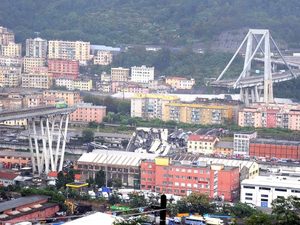 14 August 2018: Morandi Bridge in Genoa, Italy, collapses during a storm, killing 35 people
Shared pain is lessened; shared joy, increased - thus do we refute entropy.
- Spider Robinson
Recent Comments
This is an absolutely superb piece of work, riveting and unrelenting; a must-read . . .
---
Stands to reason. Feds protecting themselves through the courts. Clearing up afterwards. Badly, but by then, it doesn't matter. Nobody can do a...
---
Hi... Because children have mirror neurons or in other words will imitate the behavior of adults nearby they can be acclimatized to ANY...
---
Excellent article!! Time for us all to wake up!!
---
If you want to flag yourself as being 'of interest' simply encrypt your stuff . . . Big. Red. Flag. . . . that of. course. 'they' can crack and...