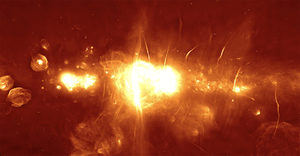 Galactic Center: South Africa's MeerKAT Radio Telescope captured this panorama of the center of the Milky Way. Area approx. 1,000 light-years by 500 light-years
Who controls the past controls the future. Who controls the present controls the past.
- George Orwell
Recent Comments
I wonder how big a carbon footprint their shiny offices created?
---
Jeezus, you're such a one-track-minded dermatology-obsessed narcissist bore, LonSabbatical. Don't you ever think about anything else? Don't bother...
---
"New research indicates that avoiding meat is one of the biggest things an individual can do to reduce their personal environmental impact" No,...
---
The french team that won the world cup is a good example of multiculturalism... of the 3 french players that scored, 2 are immigrant descendants....
---
Title of Jordan Peterson video? The link to the video is dead. Sounds like helpful information. Any suggestions on how to find it? Thanks.