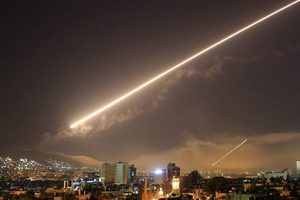 Syrian air defense systems protecting Damascus - the oldest continuously-inhabited city on Earth - from Western airstrikes, 14 April 2018
In the Truth there is no news, and in the News there is no truth
- Popular Russian saying under Soviet Communism
Recent Comments
I think the color thing is outdated
---
don't see any blizzards forecast for next week true it has been a cold winter kind of like when I was a kid
---
Readers know what I want to see. I will never get excited about transitioning away from the USD just to be under the thumb of another oppressive...
---
I don't understand why it is so hard to admit that even though they are a few nutcases who go crazy about white privilege and what not, it doesn't...
---
''... and large exit wounds that can be the size of a fist.'' Hollow point bullets ? Aren't those illegal in warfare ? I think they are illegal. I...