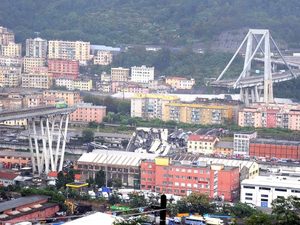 14 August 2018: Morandi Bridge in Genoa, Italy, collapses during a storm, killing 35 people
Shared pain is lessened; shared joy, increased - thus do we refute entropy.
- Spider Robinson
Recent Comments
"But thou, O Daniel, shut up the words, and seal the book, even to the time of the end: many shall run to and fro, and knowledge shall be...
---
I hope the guy gets help for his mental illness, but these police officers were doing what they had to do to subdue him, and it obviously wasn't...
---
Weinstein was planning to help Robert DeNiro make an expose documentary about the connection between immunization and autism. It was easy to take...
---
The left has already crunched the numbers, and are making contingency plans? They are rapidly losing the narrative,(the recent censoring is a...
---
Young man? More like a youth.