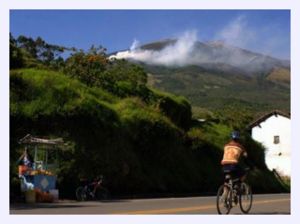 The Galeras volcano, located 14,029 feet above sea level in southwestern Colombia, erupted at 4 a.m. local time on Wednesday.
A total of 278 people were evacuated according to an Associated Press report.
Hospitals close to the affected area were requested by the government to prepare medical resources and supplies to be ready to provide immediate help.
The eruption, which spewed gas and ash, has not caused significant damage in the surrounding area, said an official press release.
The government issued alerts to residents in surrounding towns recommending residents stay indoors, avoid panic, remove ash in residential areas, and avoid using bridges after the eruption.
Galeras is considered the one of the most active volcanoes in the country, according to the Global Volcanism Program.