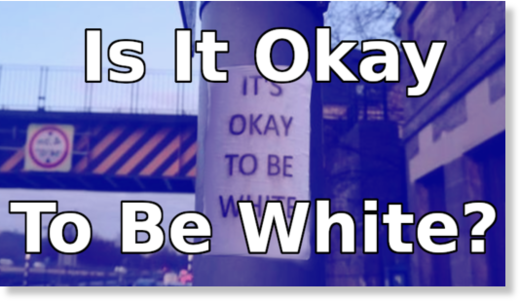 I'm white and that's OK with me. I'm not
proud
to be white because I did nothing to achieve it. I just happen to be white because both my parents were. I had no say in their decision. It was nothing to do with me.
In December 2019 posters appeared in Perth saying
"It's okay to be white."
According to the BBC
, hardly reliable, this caused some people to say,
"It's sickening and disgusting to know that people think like this."
The Scottish government seemingly agreed, with John Swinney MSP stating,
"We must stand together to resist this unacceptable material."
Why is it unacceptable? Would it be unacceptable to say it's OK to be black, brown, yellow or red? Perhaps it would but, if so, why? What's wrong with being OK with the skin you live in?
Must we all be uncomfortable with our own ethnicity?
What does skin colour matter anyway? The knee jerk reaction itself assumes the posters were inherently racist. Maybe this says more about those reacting than those posting.
I think it's OK to be black, fine to be brown, great to be yellow and neat to be red. In modern developed nations,
I consider anyone who imagines themselves superior by virtue of their skin colour to be either brainwashed or an idiot.
It is the brainwashed and the idiots who deny people equal opportunities because of their skin colour. They are the cause of remaining systemic racism. Regardless of their own individual skin colour. Thankfully, there are less of them, but they still exist.
Laws have been passed to stop the idiots discriminating. Unfortunately, many of the idiots who still discriminate are immensely wealthy and therefore powerful. They can afford other, very expensive idiots who will win court cases for them. So the law generally doesn't apply to the idiots who can afford not to care about the legalities. We are about to find out who they are.