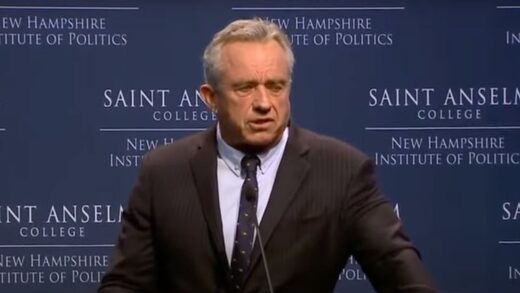 Robert F Kennedy Jr is reportedly going to run for president. The son of late Sen. Robert F Kennedy and nephew of President John F. Kennedy registered his presidential campaign with the Federal Election Commission.
According to
RawStory
, Kennedy filed his paperwork with the FEC on Wednesday afternoon, which indicated that he would run as a Democrat. His committee is reportedly called Team Kennedy, and is testing to see how much potential support he would receive for the run.
John E. Sullivan, a Florida-based attorney, is serving as the campaign's treasurer, and confirmed to the outlet that the presidential run and the FEC filing are both true.
Sullivan revealed that a formal launch of the campaign is still in the works, but that the committee is targeting April 19 as the launch date, which will take place in Boston.
In a March 10 tweet, Kennedy asked Twitter users to "help me decide whether to run for President," including a link to the
Team Kennedy website
.
"If it looks like I can raise the money and mobilize enough people to win, I'll jump in the race. If I run, my top priority will be to end the corrupt merger between state and corporate power that has ruined our economy, shattered the middle class, polluted our landscapes and waters, poisoned our children, and robbed us of our values and freedoms. Together we can restore America's democracy," the tweet added, looking for contributions and volunteers.
In a speech given last month at New Hampshire's St. Anselm College, Kennedy told the crowd regarding a presidential run:
"I'm thinking about it, and I've passed the biggest hurdle, which is my wife has green lighted it," according to
WBUR
.
Kennedy will be joining author Marianna Williamson in running to unseat President Joe Biden in 2024. Republican candidates include former President Donald Trump, former South Carolina Governor Nikki Haley, and former tech and finance executive Vivek Ramaswamy.