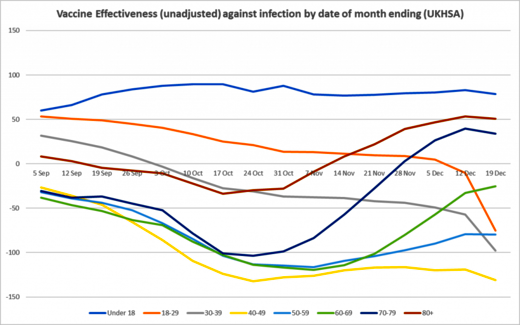 Omicron slices through vaccine protection as booster effect starts to wear off
The latest Vaccine Surveillance
report
from the UKHSA shows a sharp drop in unadjusted vaccine effectiveness against infection (calculated from the raw infection rate data) in 18-29 year-olds, down to minus-75% in the month ending December 19th, from minus-10% the previous week.
Unadjusted vaccine effectiveness fell in all age groups this week, particularly sharply in 30-39 year-olds, where it hit minus-98%. In 40-49 year-olds it fell to minus-131%. Negative vaccine effectiveness means the vaccinated are more likely to be infected than the unvaccinated.
A vaccine effectiveness of minus-100% means the vaccinated are twice as likely to be infected as the unvaccinated.