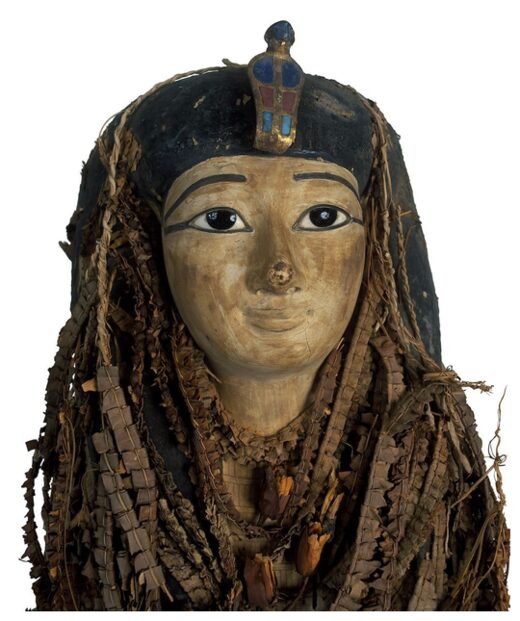 For the
first time since the 11th century BCE, scientists have unwrapped - virtually, using CT scans - the mummy of pharaoh Amenhotep I
(r. 1525 to 1504 BCE), the only royal mummy to remain unopened in modern times.
They show that the pharaoh was around 35 years old,
169cm tall, circumcized, and in good physical health when he died, apparently from natural causes.
All the royal mummies found in the 19th and 20th centuries have long since been opened for study. With one exception: egyptologists have never been bold enough to open the mummy of pharaoh Amenhotep I. Not because of any mythical curse, but because it is perfectly wrapped, decorated with beautiful flower garlands, and with face and neck covered by an exquisite lifelike mask inset with colorful stones. But now for the first time, scientists from Egypt have used three-dimensional CT (computed tomography) scanning to 'digitally unwrap' this royal mummy and study its contents. They report their findings in
Frontiers in Medicine
.
This was the first time in three millennia that Amenhotep's mummy has been 'opened'. The previous time was in the 11th century BCE, more than four centuries after his original mummification and burial. Hieroglyphics have described how at that time, priests restored and reburied royal mummies from more ancient dynasties, to repair the damage done by grave robbers.
"This fact that Amenhotep I's mummy had never been unwrapped in modern times gave us a unique opportunity: not just to study how he had originally been mummified and buried, but also how he had been treated and reburied twice, centuries after his death, by High Priests of Amun," said Dr Sahar Saleem, professor of radiology at the Faculty of Medicine at Cairo University and the radiologist of the Egyptian Mummy Project, the study's first author.