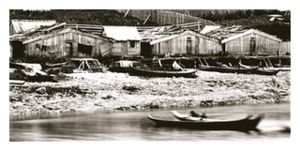 Vancouver - Oral traditions of the Heiltsuk people tell of the ancient village of Luxvbalis, abandoned after a small pox epidemic in the late 1800s and lost because so few were left to tell the tale.
The village may just have been discovered on a site on Calvert Island, in Hakai Luxvbalis Conservancy, located off British Columbia's central coast and its history could date back to as much as 10,000 years.
"People lost information about the exact location after they were decimated during the epidemics in the 1800s. Based on that oral tradition and how old it was, we think this might be that village," anthropologist Farid Rahemtulla said Monday.
"But we still need to work with the elders of the Heilstuk nation to conclusively establish this," he cautioned.
The discovery started with a routine dig on Calvert Island as part of University of Northern B.C. anthropology program's intensive archeology field school, held every summer.
"Most excavations we have done as part of the field school have been in the (B.C.) Interior. This time, I wanted to explore the coast, which has some of the oldest archeological sites in the province," said Rahemtulla, the director of the project.
He chose one of several shell middens found along the central coast and previously identified by Simon Fraser University researchers, but not yet explored.