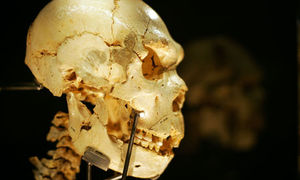 Briton says Spanish researchers are out by 200,000 years and have even got the wrong species
It is the world's biggest haul of human fossils and the most important palaeontology site in
Europe
: a subterranean chamber at the bottom of a 50ft shaft in the deepest recesses of the Atapuerca cavern in northern
Spain
. Dozens of ancient skeletons have been unearthed.
La Sima de los Huesos - the Pit of Bones - has been designated a Unesco world heritage site because of its importance to understanding
evolution
, and millions of euros, donated by the EU, have been spent constructing a museum of human antiquity in nearby Burgos.
But Britain's leading expert on human evolution, Professor Chris Stringer, of the
Natural History Museum
, has warned in the journal
Evolutionary Anthropology
that the team in charge of La Sima has got the ages of its fossils wrong by 200,000 years and has incorrectly identified the species of ancient humans found there.
Far from being a 600,000-year-old lair of a species called
Homo heidelbergensis
, he believes the pit is filled with Neanderthal remains that are no more than 400,000 years old. The difference in interpretation has crucial implications for understanding human evolution.
"The Atapuerca finds are hugely important," said Stringer. "There is no other site like it in terms of numbers of bones and skulls of our ancient predecessors. It is the world's biggest collection of ancient human fossils and the team there has done a magnificent job in excavating the site. However, if we cannot correctly fix the age and identity of the remains then we are in trouble. Getting that wrong even affects how we construct our own evolution."