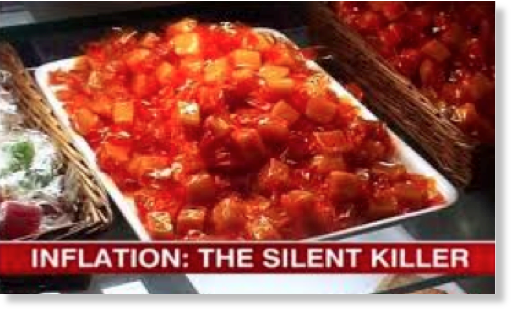 If inflation is not the first topic that comes to mind when you read about food fraud, you are not alone. There is no immediate, intuitive connection between recent sensational headlines about horsemeat being found in so-called beef lasagnas and the concept of price inflation.
But in fact, it is price inflation that is causing food fraud. Everyone has experienced shrinking package sizes where price is maintained (quantitative easing), offsetting higher input costs.
However as per this recent
Zerohedge
article
,
quality and ingredient substitutions
are now the rage:
We've had an endless series of products whose ingredients have been cheapened in order to maintain the price. Consumers won't be able to taste the difference, the theory goes.
As WealthCycles readers know, although the term "inflation" is commonly used in referring to rising prices, the true meaning of economic inflation is inflation of the currency supply. Importantly, we detail in
Semantics Deception Illustrates Power of Words
, that when you control the language, you control the argument.