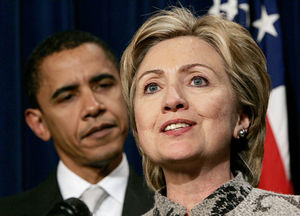 The stuck pigs are squealing. To shift the onus from the US State Department, Hillary Clinton paints Wikileaks' release of the "diplomatic cables" as an "attack on the international community". To reveal truth is equivalent, in the eyes of the US government, to an attack on the world.
It is Wikileaks' fault that all those US diplomats wrote a quarter of a million undiplomatic messages about America's allies, a.k.a., puppet states. It is also Wikileaks' fault that a member of the US government could no longer stomach the cynical ways in which the US government manipulates foreign governments to serve, not their own people, but American interests, and delivered the incriminating evidence to Wikileaks.
The US government actually thinks that it was Wikileaks' patriotic duty to return the evidence and to identify the leaker. After all, we mustn't let the rest of the world find out what we are up to. They might stop believing our lies.
The influential German magazine,
Der Spiegel
, writes: "It is nothing short of a political meltdown for US foreign policy."
This might be more a hope than a reality.
The "Soviet threat" during the second half of the 20th century enabled US governments to create institutions that subordinated the interests of other countries to those of the US government. After decades of following US leadership, European "leaders" know no other way to act. Finding out that the boss badmouths and deceives them is unlikely to light a spirit of independence. At least not until America's economic collapse becomes more noticeable.