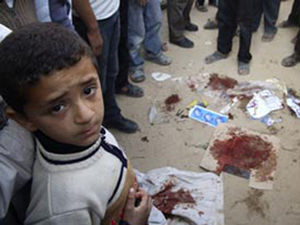 Israeli airstrikes have killed seven Islamic Jihad fighters in the Gaza Strip, prompting a massive barrage of retaliatory rocket fire, officials have said.
Adham Abu Selmiya, a spokesman for Gaza's emergency services, said on Saturday that five members of the Al-Quds Brigades, Islamic Jihad's armed wing, were killed and three wounded in a first Israeli attack on their camp.
As fighting continued into the night, Israeli aircraft struck four more targets in Gaza, witnesses and Palestinian officials said, killing two fighters and wounding two others allegedly preparing to fire a missile near Rafah, in the south of the strip.
An Israeli strike east of Gaza City and two in the area of Khan Yunis, in the south, caused no casualties, witnesses said.
As rockets and mortar shells were fired into Israel, police said they were raising their national alert to its second-highest level.