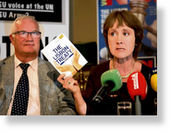 Former MEP Patricia McKenna has claimed that a booklet on the Lisbon Treaty produced by the Referendum Commission is "not impartial". She was speaking in Dublin yesterday at the launch of the People's Movement campaign against the treaty, which was also attended by artist Robert Ballagh and former Danish MEP Jens Peter Bonde.
"I think the most worrying and damaging aspect of this campaign to date is this booklet, which has been distributed to every home courtesy of the taxpayer," she said.
"This booklet is not balanced; it is not impartial, it is clearly designed in such a way as to reassure people that the Lisbon Treaty is fine and you can vote for it. While it doesn't directly say 'Vote Yes' [but] it may as well do so."