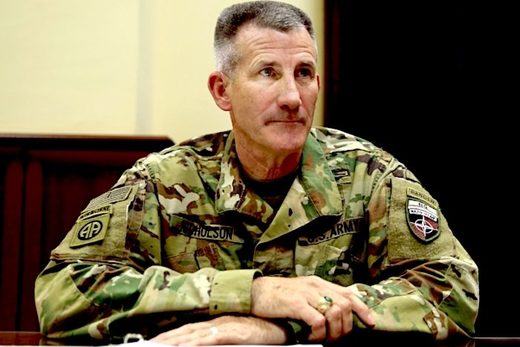 A top U.S. commander says
the war against Taliban fighters in Afghanistan has ground to a stalemate.
General John Nicholson also told the Senate Armed Services Committee on February 9 that
Russia had significantly increased covert and overt support for the Taliban, with a goal of "undermining the United States and NATO."
The assessment by Nicholson, the commander of U.S. military operations in Afghanistan, was one of the most candid admissions by U.S. officials that the fight there faces problems.

Comment: This assessment regarding Russian motives is a Western-ingrained narrative. The situation complexed with the entrenchment of ISIS. It requires uncommon alliances to cooperate and effect a purge.


There are some
8,400 U.S. troops
remaining in Afghanistan since most NATO forces withdrew in 2014. Since then, however, Afghan forces have struggled to fend off the
Taliban, which has gained control of more territory
than at any time since the U.S.-led invasion of Afghanistan in 2001.
Nicholson said Afghan forces had suffered significant casualties, impeding their ability to reach full strength.
He said he would need several thousand more troops -- U.S. and other countries' forces -- in order to break the stalemate.
The Afghan forces remained hamstrung by corruption and leadership problems, stemming from an entrenched patronage system, he said.

Comment: Corruption and leadership problems are nothing new on the face of the earth. Long lasting solutions are ones created by those whose problems they are to solve, not necessarily helped by those who impose. If you win the stalemate, you own keeping the edge. Does the US foresee another long-term commitment?