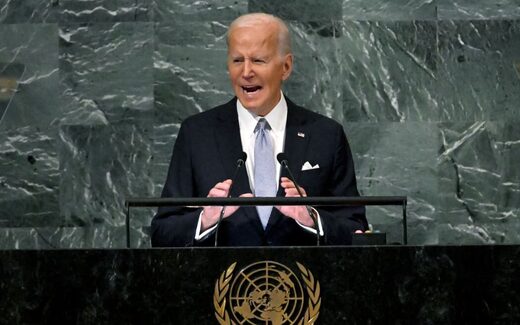 US President Joe Biden accused Russia of making "reckless" and "irresponsible" threats to use nuclear weapons and said Moscow had violated the core tenets of United Nations membership by invading Ukraine.
Speaking at the United Nations General Assembly in New York, Biden slammed Russian President Vladimir Putin for starting an unprovoked war that some 40 UN members were helping Ukraine fight through funding and weapons.

Comment: 'Unprovoked'...


Earlier on Wednesday, Putin
ordered a Russian mobilisation
to fight in Ukraine and made a thinly veiled threat to use nuclear weapons, in what NATO called a "reckless" act of desperation in the face of a looming Russian defeat.

Comment: Desperate? With 40 nations bankrupting themselves supplying Ukraine with tens of billions of dollars in funds and weapons and cutting themselves off from critical sources of energy, it's clear that it's not Russia that is 'desperate'.