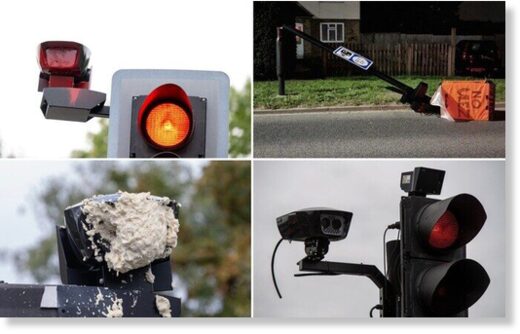 Police have arrested the rightwing commentator Laurence Fox at his home after comments appearing to encouraging people to vandalise Ulez cameras.
On Wednesday morning Fox's Reclaim party posted a video on X, formerly known as Twitter, which showed him sitting on the sofa in his living room, as several people dressed in police uniforms and wearing protective plastic gloves milled around him.
In the video Fox says: "Look how many coppers there are in my house, look at them coming to steal everything, take everything out of my house. That, ladies and gentlemen, is the country that we live in." He then gives the camera a thumbs up.
In a statement, which did not name Fox, police said: "On Wednesday 4 October officers arrested a 45-year-old man on suspicion of conspiring to commit criminal damage to Ulez cameras and encouraging or assisting offences to be committed.
"He was arrested in Stockwell and has been taken to a south London police station, where he remains in custody."
The Reclaim party posted on social media to confirm Fox had been arrested at his home and taken to a police station.
After the arrest, the broadcaster GB News, which last week suspended Fox after he made misogynistic remarks about the political journalist Ava Evans while on the
Dan Wootton Tonight
show, said it had "ended its employment relationship" with him.
In a statement, the broadcaster said its working relationship with the regular presenter Calvin Robinson, who had issued a statement expressing solidarity with Wootton, was also over. The internal investigation into Wootton, who was also suspended, was continuing, it said.
Fox's arrest comes after he featured on a show on the video streaming site Rumble on Tuesday appearing to encouraging people to destroy Ulez cameras and saying he would himself take an angle grinder to them.