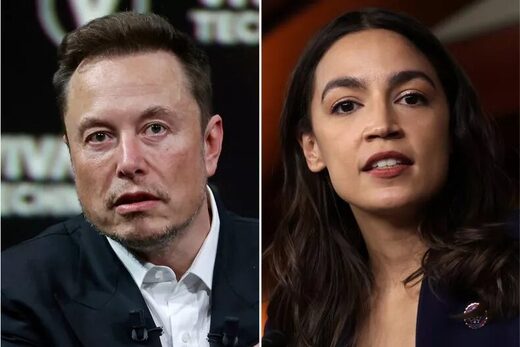 Elon Musk, the CEO of X, formerly Twitter, locked horns with Representative Alexandria Ocasio-Cortez (D-NY) this week, after the billionaire accused the politician of being "not that smart."
Ocasio-Cortez caught the attention of X users late Tuesday, when she shared a "boy math" post. The trend is a derivative of the "girl math" posts from the summer, where tongue-in-cheek arithmetic was used to justify excessive spending. It led to "boy math," where several posts gave examples of men exaggerating such factors as their height.
Some social media users have used the trend to address less lighthearted topics, including Ocasio-Cortez, who chose to take a swipe at Republican House Speaker Kevin McCarthy and his decidedly rocky road to being elected.
"Boy math is needing 15 attempts to count the votes correctly to become Speaker and then shutting down the government 9 months later," Ocasio-Cortez, who is also known as AOC,
wrote in an X post
.
The federal government will likely shut down in two days. Congress has been unable to agree on future spending levels or find the votes needed to pass a short-term extension.
At the center of this turmoil is Speaker McCarthy, who unlike Senate leaders, has largely refused to pass spending bills in a bipartisan manner. With Republicans controlling the House by a slim margin, McCarthy can't lose more than five votes, and some of his own conservatives have shown little desire to compromise when legislation doesn't meet all of their desires.
Aware of the blame Republicans have faced for past government shutdowns, McCarthy and other Republicans have taken to blaming President Joe Biden for a potential shutdown, ignoring the fact that funding the government is a congressional responsibility.
Political commentator Ashley St. Clair responded to Ocasio-Cortez's dig at McCarthy by challenging the congresswoman's previous comments, in which she compared New York's immigrant numbers of today and yesteryear.
"Girl math is saying immigrants coming legally through Ellis Island is the same as 3 million undocumented migrants pouring through our border and costing NYC $1,000,000,000 to house migrants for free in hotels," St. Clair wrote.
Weighing in with his own opinion on the matter,
Musk said
of Ocasio-Cortez: "She's just not that smart."
Refusing to take the criticism lying down, Ocasio-Cortez responded by sharing an overview of her accomplishments since her 2018 election victory.
"I wasn't born rich and became the youngest woman in American history to be elected to Congress," she stated. "Then I investigated [Michael] Cohen, authored the largest FEMA [Federal Emergency Management Agency] funeral assistance program in history and led creation of a U.S. Climate Corps to create tens of thousands of new jobs. Stay mad."
"I take it back — you're obviously a genius," Musk quipped in response.
Musk returned to the post later on Wednesday and commented:
"First, please allow me to congratulate you on these epic achievements. However, have you considered, rather than 'funeral assistance,' that FEMA focus its funding on preventing funerals in the first place?"
The bad blood spilled over into Thursday, when Fox News correspondent Griff Jenkins announced in an X post that Musk was "on the ground in Eagle Pass with [Representative Tony Gonzales (R-TX)] to see the migrant crisis for himself."
"What's funny about this photo?" Ocasio-Cortez responded. "The House is holding important votes in DC tonight, people are scrambling to avoid a shutdown, but this Republican Congressman decided to skip town to joyride with a billionaire when his own party has just a single-digit margin and needs his vote."
"What's funny about this photo is that you staged a photo shoot crying over a road behind a fence," read a post from another X user, which showed Ocasio-Cortez standing by a fence. Musk responded to the post with a laughing emoji.
The photo in question
was from Ocasio-Cortez's participation in a 2018 protest on a road outside a tent city shelter in Texas, where migrant children had been detained. A number of the children had been separated from their parents. Protesters were prohibited from walking right up to the tents at the time.
Meanwhile, Ocasio-Cortez reposted a comment from Representative Adam Schiff (D-CA), in which he criticized Musk on X on Thursday.
"Elon Musk just fired half of the Election Integrity Team at X," Schiff wrote. "Allowing election misinformation to fester on this platform opens our democracy up to further attack and disinformation. But Elon seems fine with that."
This week, the account @xDaily shared a post in which it was stated that the platform had "cut half of of its Electoral integrity team, including the head of the group. Despite this, X has recently reiterated it plans to hire more staff in this area ahead of major international elections in 2024."
Confirming the move, Musk wrote: "Oh you mean the 'Election Integrity' Team that was undermining election integrity? Yeah, they're gone."
Musk has clashed on numerous occasions with
Ocasio-Cortez
, who has been his vocal critic of the businessman since he bought
X for $44 billion
late last year.
When his plans to buy X, then known as Twitter, were revealed in April 2022, Ocasio-Cortez took a jab at him.
"Tired of having to collectively stress about what explosion of hate crimes is happening because some billionaire with an ego problem unilaterally controls a massive communication platform and skews it because Tucker Carlson or Peter Thiel took him to dinner and made him feel special," Ocasio-Cortez said.
"Stop hitting on me, I'm really shy," Musk responded, adding a blushing emoji.
Ocasio-Cortez responded to Musk, writing: "I was talking about [Mark] Zuckerberg but ok," but she has since deleted the tweet.
The congresswoman once again lashed out at Musk for promising "free speech" on Twitter while offering an $8 per month "blue check" plan.
"Lmao at a billionaire earnestly trying to sell people on the idea that 'free speech' is actually a $8/mo subscription plan," Ocasio-Cortez wrote last year.
"Your feedback is appreciated, now pay $8," Musk responded, before temporarily pinning the tweet to the top of his X profile.