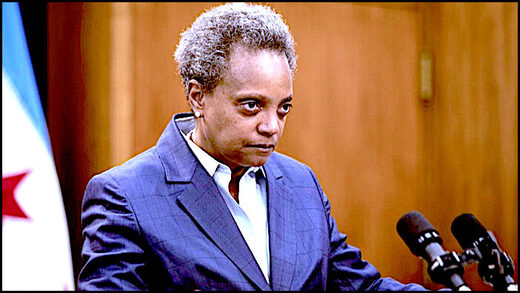 Failed Chicago Mayor
Lori Lightfoot
will be taking a teaching role as a
Menschel Senior Leadership Fellow at the Harvard T.H. Chan School of Public Health.
Lightfoot, the first Chicago mayor to lose re-election in 40 years, will teach a course titled
"Health Policy, and Leadership."
Under
Lightfoot's
leadership, crime and poverty in the Windy City skyrocketed, while public school test scores plummeted.
In its
announcement
, Harvard claimed:
"Lightfoot led a coordinated, citywide response across government, business, and community organizations to safeguard public health and minimize economic impact from the COVID-19 pandemic."
Lightfoot, who left office on May 15, received heavy criticism for her strict COVID policies and was slammed for violating them by getting a haircut at the height of pandemic lockdowns after telling residents to remain at home.
After her loss in the primary, Lightfoot attempted to
blame her defeat on racism
rather than her failed policies.
According to the school's website, the Menschel program
"offers a rare opportunity for those who have recently served in top-level positions in government, multilateral institutions, nonprofit organizations and journalism to spend time at the school mentoring and teaching students who aspire to similar roles. Lightfoot will hold regular office hours to meet with students, faculty, and staff during her time on campus."
Lightfoot broke the news on Twitter writing:
Dean of Faculty Michelle A. Williams said in a
statement
:
"I'm delighted to welcome Mayor Lightfoot to Harvard Chan School as a Menschel Senior Leadership Fellow. As mayor, she showed strong leadership in advocating for health, equity, and dignity for every resident of Chicago, from her declaration of structural racism as a public health crisis to her innovative initiative to bring mental health services to libraries and shelters. And of course, she led the city through the COVID-19 pandemic."