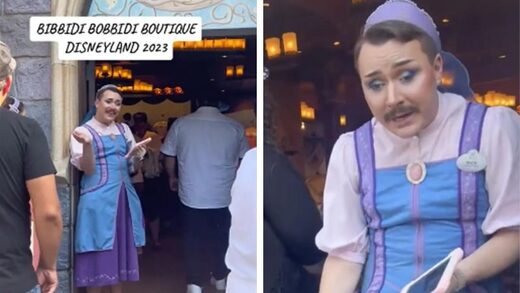 Immense scrutiny erupted across the internet on Tuesday after a video surfaced of a
cross-dressing male
with a mustache greeting little girls as a "fairy godmother" at
Disneyland's
Bibbidi Bobbidi Boutique.
The video, which has since gone viral with more than 7 million views, shows the Disney employee named "Nick" wearing a pink and blue dress with matching makeup and welcoming little girls into the store. His title at the Bibbidi Bobbidi Boutique, which transforms kids ages 3 to 12 into princesses or knights with makeovers, is called a "Fairy Godmother's Apprentice."
"So, my name is Nick, I am one of the Fairy Godmother's Apprentices," Nick said, smiling at the little girl with a face full of pink and blue makeup.
"I'm here to shop you around and make all your selections for the day," he said, according to the video.
The video was first uploaded to social media by "mom-fluencer" Kournti Farber who did not criticize the cross-dressing male, but rather thanked the boutique for her daughter's "magical makeover." However, the moment went viral after it was shared to Twitter which quickly captured the attention of the growing anti-Disney crowd.
"Disney has a man in a dress working in the dress store for little girls at Disneyland. This is who Disney wants girls to see when they first walk in to pick out a dress," a user posted to Twitter, sharing the video.
A flurry of opposition flooded in shortly after, with people calling for further boycotts against Disney.
"What sort of grown man wants to help little girls pick princess dresses??" one user asked.
"That boutique is a big deal for the girls when they go there. Mine went. They're having this little fantasy day and now they get greeted for this experience by a creepy man in a dress? He is immeasurably creepy just for wanting this job position in the first place," conservative activist Billboard Chris wrote.
"No worries that's just CinderFella," quipped another.
Another user was quick to claim that the Disney employee was not a trans-identified male but rather a transvestite, which he described as a "sexual fetish."
"That's a transvestite. Not a transsexual. Transvestism is a sexual fetish, not a gender identity," they wrote.
"Another reason to boycott Disney," said another.
Disney previously sparked outrage after announcing in 2022 that it would be making changes to the Bibbidi Bobbidi Boutique in an effort to encourage more inclusivity among cast members that identify as non-binary. The company changed the title from "Fairy Godmother in Training" to "Fairy Godmother's Apprentices."
"This way, cast members that might not identify as female can still be part of the process to dress up & style the children without having to refer to themselves as a female Disney character,"
the corporation said at the time
.