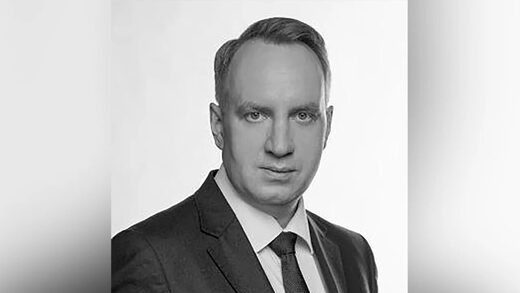 A Russian politician died of - as of yet - unknown causes after falling ill on a plane on Saturday, the latest in a string of
mysterious deaths
among Russian elites.
Russia's Deputy Minister of Science and Higher Education, Pyotr Kucherenko, 46, died while returning from a trip to Cuba on Saturday, according to the ministry.
"Kucherenko
was feeling ill while on a plane with a Russian delegation that was returning from a business trip to Cuba. The plane landed in the city of Mineralnye Vody, where doctors tried to assist,"
the ministry said in a statement posted on its website, adding that the minister could not be saved.
Kucherenko's family said his death may have been from a heart condition but
a forensic examination will be held on Wednesday
, according to the state-run broadcaster Zvezda.
Speaking to reporters on Tuesday, Kremlin spokesperson Dmitry Peskov said he was not aware of Kucherenko's cause of death.
Journalist Roman Super, who fled Russia shortly after it invaded
Ukraine
last February, said on his Telegram channel that he had spoken with Kucherenko "just days" before fleeing. He said Kucherenko feared for his safety and encouraged him to leave Russia.

Comment: Kucherenko may have feared for his safety, but, unlike the Russian fugitive quoted above, Kucherenko likely was concerned about foreign actors.


Russia's Deputy Minister of Science and Higher Education Pyotr Kucherenko died while returning from Cuba. Russian Ministry of Science and Higher Education
Super said he asked Kucherenko if he too wanted to leave Russia, to which, he said, the minister replied: "It is no longer possible to do so. They take away our passports. And there is no such world where they will now be happy with the deputy Russian minister after this fascist invasion."

Comment: Utter nonsense. Bear in mind that it was widely reported when the Kremlin banned iPhones, and yet we've heard nothing about the above?


The journalist added that Kucherenko told him he'd been taking antidepressants and tranquilizers, quoting him as saying: "I drink them in handfuls. And it doesn't help much. I hardly sleep. I feel terrible. We are all taken hostage. Nobody can say anything. Otherwise, we are immediately crushed like bugs."

Comment: Maybe he was taking medication, but Mr Super's other ludicrous claims mean he's not a credible witness.


It has been reported that senior Russian officials at the Kremlin and in the regions have been forbidden from leaving their posts. IStories, an online investigative news outlet based outside Russia and run by a well-known journalist Roman Anin, reported last week that several governors, officials within the security forces and people from the presidential administration had
tried to quit but had not been allowed
to.
Peskov dismissed the report as a hoax.
Mysterious deaths pile up
Kucherenko's demise is not the first unexplained Russian death to spark interest.
At least 13 high-profile Russian businessmen have reportedly
died by suicide or in unexplained accidents
in the last year, with six of them associated with Russia's two largest energy companies.
Russian sausage magnate-turned-lawmaker
Pavel Antov
died in India in December after falling from the third floor of his hotel
, according to the Indian police.
Antov's death came after
his friend and travel companion Vladimir Budanov died of a heart attack on Antov's 65th birthday, two days earlier
, according to the police. Budanov was 61 years old and had a preexisting heart condition, the police said, adding that they believed Antov's death was a suicide.
Alexander
Buzakov, the head of a major Russian shipyard that specializes in building non-nuclear submarines, died suddenly in December, with no cause of death given by the authorities
, Reuters news agency reported.
Anatoly Gerashchenko
, the former rector to the Moscow Aviation Institute, died in an unspecified accident in September
, according to a statement from the institute.
Lukoil chairman Ravil
Maganov died at the beginning of September after falling out of the window of a hospital in Moscow
, according to TASS.
In mid-September, Russian businessman Ivan
Pechorin, who was the top manager for the Corporation for the Development of the Far East and the Arctic, was found dead in Vladivostok, according to Russian state media. Pechorin drowned
on September 10 near Cape Ignatyev in Vladivostok, regional media reported.
Another top Lukoil manager, Alexander Subbotin, was found dead near Moscow in May after reportedly visiting a shaman
, TASS reported.