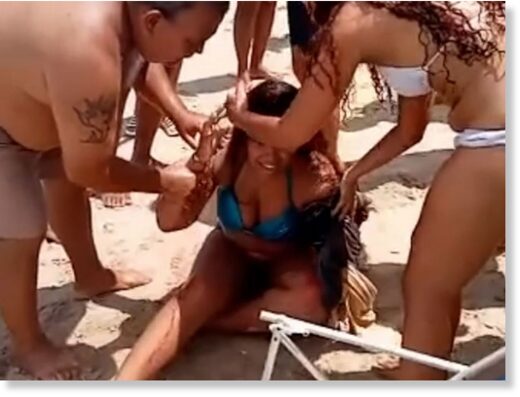 A 15-year-old girl had her arm torn off in a shark attack at Piedade Beach in Brazil.
Horror footage shows the moment her bystanders pull Kaylane Timóteo Freitas onto the beach and set her down on the ground with a bloodied rag covering what remains of her arm.
The teenager had her arm amputated at a nearby hospital and is reported to be in a stable condition.
The attack came only a day after a 14-year-old boy was savaged by a shark on the same beach, requiring the amputation of his leg.
Both attacks took place within 1640ft (500m) of each other at Piedade Beach,
Jaboatão dos Guararapes, Pernambuco State, Brazil.
According to the authorities, a medical team attended the teenage girl at around 1.20pm on Monday.
She was carried off the beach by first responders and taken to hospital by helicopter.
After undergoing amputation, Kaylane is said to be in a stable condition in hospital where she is awake and able to answer questions.
Andréa Caribé, who lives in a building opposite the beach, said: 'When I saw her, she was already covered in blankets and being taken away.
'Even after that, some people remained in the water. They [lifeguards] were pulling people out.'
Psychologist Andrea Caribe, who lives in a building overlooking the beach, said she was baffled to see people remain in the water after the attack.
She told local media: "They [the lifeguards] are pulling people out."
Swimming has been banned at Piedade Beach since 2021 due to the high number of shark attacks.
The Greater Recife area is believed to be the most deadly shark attack spot in the world.
The attack on Kaylane was the third off the coast of Pernambuco in two weeks.

On Sunday 5 March, a 14-year-old boy was left with his femur exposed after a shark attacked.

On 20 February, a surfer was bitten by a shark at Praia Del Chifre in Olinda.
The authorities pointed out that the beach has been a restricted area for swimming since 2021 due to the frequency of shark attacks.
There are 150 signs in the region warning of the risk of shark attacks and a state decree has been in effect since 1999.
The City Hall said they will schedule a meeting with the State Committee for Monitoring Shark Incidents to decide if new measures should be implemented in the area.
As a rule, most sharks are not dangerous to humans. Of more than 300 species, only about a dozen have been involved in attacks on humans, according to the
National Oceanic and Atmospheric Administration.
The majority of unprovoked attacks are by great white, tiger and bull sharks.
The apparent increase in attacks is linked to rising human populations around the coast and the destruction of habitat.
In 2022, there were
57
confirmed unprovoked cases worldwide, 41 of which were in the United States and only five of which were fatal.