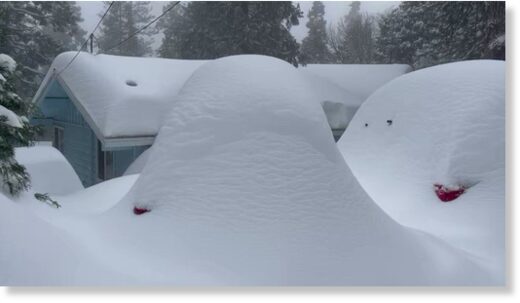 Over the past few days mountain areas have experienced high snowfall totals
and there's more on the way.
A winter storm with an atmospheric river that made its way over the Pacific brought multiple days of unexpected snowfall to some parts of Southern California.
Some areas have already received over 30 inches of snow and there is more coming in the forecast.
The snow came as the National Weather Service issued a rare blizzard warning for the San Bernardino mountains as well as the LA County and Ventura County mountains.
The storm will continue to make appearances throughout the remainder of the weekend and forecasters say another storm is already making its way expected to hit on Tuesday.
The snowfall and ice has caused multiple roadway closures due to dangerous driving conditions.
Here are some of the top snowfall totals across different counties in Southern California through Saturday morning. Measurements are in inches.
Mountain High: 81
Mt Baldy: 38
Lake Arrowhead: 36
Big Bear Lake: 33
Wrightwood: 32
Yucaipa Ridge: 19
Forest Falls: 19
Angelus Oaks: 16
Oak Grove: 2
Apple Valley: 0.25
To see more snowfall totals use this
link.
The storm was fueled by a weather phenomenon behind some of California's wettest and most destructive storms. Atmospheric rivers are long plumes of moisture over the Pacific Ocean that tend to move through the atmosphere in streams between 250 and 375 miles wide.
The rivers in the sky move a staggering amount of water. One atmospheric river can move an average of 10.5 trillion gallons of water per day.
The strongest atmospheric rivers can move anywhere between seven and 25 times as much water as the flow of the Mississippi River, which is the second longest river in North America and has a watershed that reaches 32 states, according to the national park service.