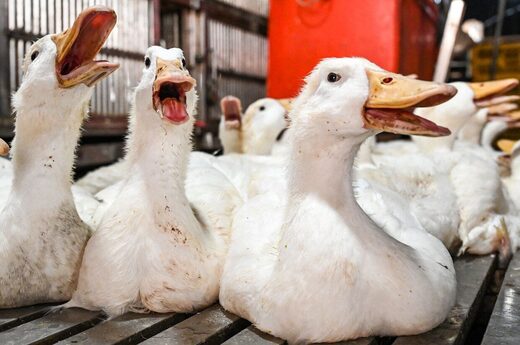 An 11-year-old girl died this week and her father also tested positive for the H5N1 strain of bird flu.
It's unclear if either case was the result of human-to-human transmission.
The World Health Organization said Friday that it is investigating two human cases of bird flu in Cambodia, after an 11-year-old girl died this week and her father also tested positive for the H5N1 strain.
An
outbreak of bird flu
first observed in 2021 has been circulating around the world, including in
the United States, where nearly 58.5 million birds from commercial and backyard flocks have been wiped out since last February
,
according to the U.S. Department of Agriculture
.

Comment: These birds were culled as a precaution. How many were actually infected, and died, as a result of bird flu, is not clear.


The risk of avian flu to humans is still thought to be low, but the global spread of H5N1 into
wild bird species and even mammals
, such as bears, raccoons, minks, foxes and sea lions
, has increased concerns that it could mutate into a version that passes easily between people.
The WHO has said
that some avian influenza viruses "have the potential to mutate to increase transmissibility among humans."
Cambodian health officials said Thursday that the girl's case
was the first known human infection of H5N1 in Cambodia in nine years, since 2014
.
The victim's father also tested positive for the virus but did not exhibit any symptoms
, and 11 other close contacts were tested in Prey Veng province, east of Phnom Penh,
according to Reuters
. Those results have not yet been disclosed, and it's not yet known if the girl's father was infected through human-to-human transmission, or through contact with infected birds or animals.
Cambodia's health minister said
the girl was diagnosed with avian influenza on Feb. 16 after exhibiting a high fever and cough
. She was later transferred to National Children's Hospital in Phnom Penh but died on Wednesday,
Reuters reported
.
The WHO has recorded several cases of H5N1 infections in humans since 2021, including in a
9-year-old girl in rural Ecuador
, a
person in the United Kingdom
who kept a "large number" of domestic birds,
two poultry workers in Spain
and an
individual in the U.S.
who was involved in culling affected poultry at a farm.

Comment: Considering the WHO's unscientific handling of the contrived coronavirus crisis, the push by numerous government's for a bio-surveillance security state, as well as the establishment's concerted attack on the food supply, it's only reasonable to be suspicious of their handling of bird flu.


In these cases, the patients had been in close contact with birds or poultry and as of now, "there has been no sustained human-to-human transmission identified,"
according to the WHO
.
Dr. Sylvie Briand, director of epidemic and pandemic preparedness and prevention at the WHO, called the situation "worrying," given the virus' rapid spread among birds and the infections detected in mammals and humans.
"WHO takes the risk from this virus seriously and urges heightened vigilance from all countries," Briand said Friday in a virtual news briefing.