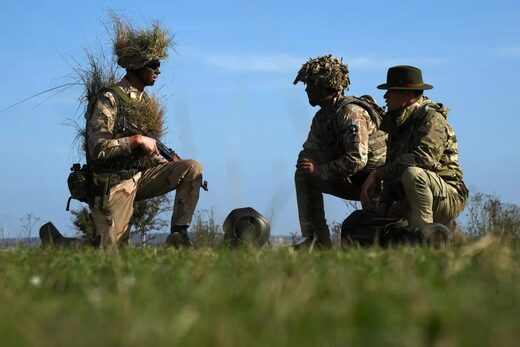 Moscow has repeatedly warned that the training of Ukrainian soldiers in Western countries confirms the direct involvement of the United States and NATO in the conflict in Ukraine.
A group of Ukrainian soldiers who were trained at a UK military base last summer, surrendered after 20 minutes of the first fighting against Russian forces near Svyatogorsk in
the Donetsk People's Republic
, Armed Forces of Ukraine conscript Artyom Kovalenko, a member of the group, told Sputnik.
He recollected that before arriving "at the Workop base in Britain", they reached the Western Ukrainian city of Lvov, from where they crossed the border to Poland and then took a bus to enter the UK.
According to Kovalenko, they took "a 21-day training course for rookie soldiers at the base, which included shooting, medicine, military law and basic military things such as storming trenches, buildings and cities."
Kovalenko explained that after the group wrapped up the course, they returned to the northern Ukrainian city of Zhitomir, where they took part in joint combat training as part of the Ukrainian army's 25th brigade.
"After that, we went to the Volyn region to patrol the village of Zabolotye. [...] Then we went to Svyatogorsk, where we lived at a tourist base for four days, and shortly after we went to the frontline where we had spent a month before being captured. We were tasked with holding the line. We were captured on December 1 after we were bypassed and our positions were stormed. Twenty minutes into the fighting, we surrendered," he said.
Since Russia started
its special military operation in Ukraine
on February 24,2022, the US and its allies have imposed swathes of sanctions on Moscow, while also providing military and technical assistance to Kiev.
Although the countries which have sanctioned Russia have repeatedly stated that they have no intention to send troops to Ukraine and become a party to the conflict, they haven't baulked at sending their instructors to Ukraine and also assisting Ukrainian soldiers in travelling to other countries to undergo military training.
Apart from the US, Canada and the UK, which have already been training thousands of Ukrainian troops, several individual EU nations, such as Germany and France, have been training Ukrainians to use the modern artillery systems, missile launchers and air defenses they have delivered to Kiev. In separate development last month, the UK, along with the US and Germany, signaled its readiness to provide Ukraine with
their main battle tanks
- the Challenger 2, the M1 Abrams and the Leopard 2, respectively.
Moscow has repeatedly rebuked the West for supplying weapons to Ukraine, warning that Western countries "are playing with fire" and that such deliveries add to prolonging the Ukrainian conflict further.
Russia's Foreign Minister Sergey Lavrov warned that "any weapon [and] any arms shipment to Ukrainian territory" would be considered "a legitimate target" by the Russian military. According to Moscow, Ukrainian soldiers being trained in Western countries testifies to the US and NATO's direct involvement in the Ukrainian conflict.