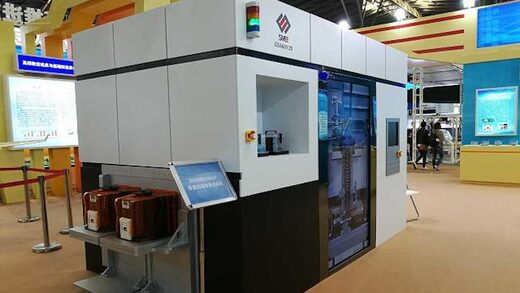 Despite Western media reports that the Netherlands would follow the US guidelines on technology exports to China, ASML's chief executive Peter Wennink said Wednesday that the company would probably maintain its level of exports to mainland China this year.
ASML's sales of chipmaking equipment to China rose from about US$700 million in 2016 to US$2.8 billion in 2022.
Wennink also said that any further export ban would accelerate China's plan to develop its own lithography tools.
His comment came after media reports
said
the Netherlands and Japan, which have dominated the lithography markets for decades, would impose certain export restrictions on China as soon as the end of this month
.
The two countries's measures may be different from those of the US. These measures
will probably not affect the previously-ordered lithography equipment, which will be delivered this year or next year
, according to some analysts.
Some Chinese IT experts said it would take many years before China could self-supply its chip-making tools.
They said if Chinese chipmakers were forced to shift from 28nm chips to more mature products such as 45nm chips, they still would choose to use foreign chip-making tools, given that the yield of Shanghai Micro Electronics Equipment (SMEE)'s existing lithography machine is very low.
Since early 2020, the US has stopped the Netherlands from exporting to China its extreme ultraviolet (EUV) lithography equipment used in making high-end chips smaller than 22nm. Last July, the US put pressure on ASML to stop selling its deep ultraviolet (DUV) lithography tools to China.
This year, US President Joe Biden met with Japanese Prime Minister Fumio Kishida on January 13 and Dutch Prime Minister Mark Rutte on January 17 at the White House, persuading them to impose a chip export ban on China. On January 20, Bloomberg reported that the Dutch and Japan would announce their chip export bans by the end of this month.
Most Chinese technology columnists are pessimistic that China can launch its own lithography tools any time soon.
"In terms of chip-making technology, China is far behind other places in the world," a Hebei-based writer
said
in an article on Tuesday. "When others are developing 1nm chips, we are still stuck in 12nm chips and will probably be unable to make any breakthroughs for some more time."
The columnist said China's self-developed lithography machine could produce 90nm chips in a single exposure, 45nm ones in dual exposures or 22nm ones in multiple exposures but the yield is too low for commercial production.
Although people might have high hopes for the launch of SMEE's SSA800/10W, which can make 28nm chips in a single exposure or 7nm ones in multiple exposures, he said, there has not been an update of news about this machine.
He said Chinese should stop hoping that the chip alliance the US is setting up would give China a fair chance to develop its semiconductor industry.
A Chongqing-based writer
said
that, as far as he knew, SSA800/10W had not yet passed the required tests and would not be available for mass production in the foreseeable future.
He said China had developed a lithography tool that could make 90nm chips a long time ago but only one of these machines was sold, just as a showcase. He said the machine was built by perofrming "reverse-engineering" on a DUV lithography machine produced by ASML while most of its parts had to be sourced overseas.
The writer said China must keep its feet on the ground to develop its lithography technology, instead of chanting slogans that it can achieve technological breakthroughs to bypass US sanctions soon.
The SMEE's most advanced lithography, namely SSZ600/20, can make 90nm chips, which are mainly used in power management, radio frequency, Wifi, LCD driver and analog-digital integrated circuits, according to the company's website.
The SMEE was set up by the Shanghai government and the Ministry of Science and Technology in 2002, when lithography was included in China's 863 program, or State High-Tech Development Plan.
Another Hebei-based columnist
said
even if SMEE's SSZ600/20 can produce 28nm chips in multiple exposures, those are four generations behind the chips made with ASML's EUV lithography.
He said SSZ600/20 has a low stability and is incompatible with non-ASML equipment. He said that, due to all these drawbacks, the machine cannot enter commercial production.
He said this also explains why most mainland-based foundries that produce 45nm or above chips choose to use ASML's equipment, instead of SSZ600/20.
Follow Jeff Pao on Twitter at @jeffpao3