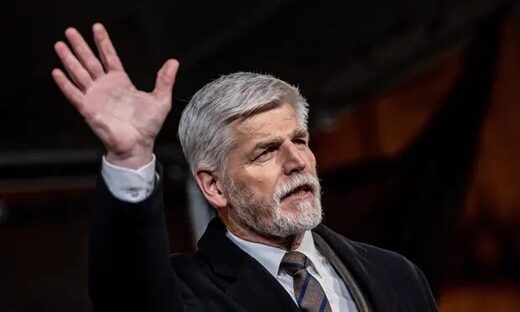 Petr Pavel, a retired general and former senior Nato commander, has swept to the Czech presidency after a landslide victory over
the former prime minister Andrej Babiš in an election overshadowed by rows over the war between Russia and Ukraine
.
With nearly all the votes counted, returns showed Pavel prevailing by the emphatic
margin of 58.3% to 41.68%
, the largest ever recorded in a Czech presidential poll and reflecting an advantage of more than 958,000 votes nationwide.
Pavel's supporters immediately hailed the result as a victory for liberal democracy over oligarchic populism, which they believe Babiš represents.
As the scale of his triumph became clear, Pavel, 61, a former army chief of staff and Nato second-in-command, was greeted by ecstatic chants of "president, president" from champagne-drinking supporters as he mounted the podium at his campaign headquarters in Prague's Karlín district.
He called his win a victory for "truth, dignity, respect and humility" and vowed to seek national unity after an election campaign widely denounced as bitterly divisive. "We have different views on many things, but that doesn't mean we are enemies," said Pavel. "We have to learn to communicate with each other."
In a highly symbolic moment,
he then received the congratulations on stage of Zuzana Čaputová, Slovakia's president, who - like Pavel - has spoken out against populism
and invoked the values of Václav Havel, the one-time dissident who was the first post-communist president of the former Czechoslovakia.

Comment: In recent years Populism mostly seems to be candidates who have the support of the people due to their rejection of the establishment agenda.


The outcome represented a personal vindication for
the pro-western Pavel
, who was forced to deny false eve-of-poll reports of his own death announced on a counterfeit version of his campaign website, sparking allegations of dirty tricks and a police investigation.
It also amounted to a humiliating rebuff for Slovak-born Babiš, 68, a billionaire tycoon who stood accused of running a shameless, scorched-earth campaign after
portraying Pavel as a warmonger for his support of military aid to Ukraine
.

Comment: Supplying weapons to Ukraine's Nazi military will prolong the war, despite it being quite clear that Kiev is losing, and so one could claim that this is indeed warmongering.


At one point,
Babiš even appeared to question Nato's collective security arrangements by saying he would never send Czech troops to Poland, a fellow member of the military alliance, if it was attacked by Russia
.

Comment: A rather strange proposition, because: why would Russia be attacking Poland? Anyway, perhaps Babiš just doesn't agree with the Czech Republic being in NATO?


He also tried to capitalise on Pavel's past membership of the then ruling Communist party before it was toppled in the 1989 Velvet Revolution - brazenly overlooking his own previous role, confirmed by a court ruling, as an informer for the communist-era secret police and his backing from the current Czech communists.
Babiš's future role in Czech politics is thrown into doubt by the chastening manner of his defeat, some analysts say, despite his pledge to lead his ANO party into the next parliamentary election, due in 2025.
"He will try to say he has attracted new voters that don't normally vote for ANO and that this is a victory," said Jiří Pehe, a political analyst and the director of New York University in Prague. "But this is his third election defeat in a row and the most personal of all. If he is the leader of what's effectively a one-man party and he keeps losing, that will have an effect on ANO, no doubt."
Pavel was boosted by the support of several losing candidates
in the first-round poll two weeks ago, when he finished narrowly ahead of Babiš but failed to win the statutory 50% of the vote
, necessitating a run-off.
He attracted a wide array of popular support - notably from younger voters - with liberal social policies, including support for gay marriage, which is still prohibited in the Czech Republic.
He will now ascend to an office rich in symbolism and moral authority and
carrying the power of appointments in areas such as the judiciary and the central bank. The president also has the prerogative to choose prime ministers
in the wake of elections.
Pavel will replace the controversial incumbent president, Miloš Zeman, who steps down in March at the end of his second term.
He has been branded divisive by critics, who also accuse him of seeking to meddle in politics beyond his constitutional powers.
"Pavel will be a huge change - this cannot be overestimated,"
said Pehe. "We've had in the last 10 years a president who in many ways was a disgrace for the Czech Republic. He was pro-Russian, bypassed the constitution and was rude and offensive.
"Pavel will try his best to somehow represent the whole of society. He is someone who has a respect for the rules of the game."