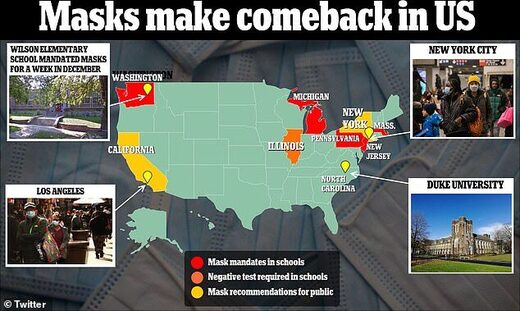 Hundreds of thousands more students across the US have been placed under Covid restrictions as schools and colleges bring back mask and testing mandates.
In another sign that pandemic policies are creeping back into American life, elementary and middle schools in
Massachusetts
and
Michigan
began requiring face coverings to be worn indoors 'at all times'.
Meanwhile, children in a
Chicago
school system must now show a negative Covid test before being allowed back into classrooms after the winter break.
Mask hysteria is also spilling over into colleges, with Duke University in Durham,
North Carolina
, planning to make masks an entry requirement if Covid cases don't come down within the next fortnight. The University of Massachusetts, Boston, brought back its controversial mask mandate on Monday.
It means more than 600,000 students are living with Covid rules — despite little evidence that they reduce transmission — after students in
New Jersey and Pennsylvania
were also put under mask mandates last week.
Covid cases in the US have risen 16 percent in a week nationally according to the latest data available, to about 67,000 new cases a day.
This is thanks to a new highly infectious variant XBB.1.5, and higher mixing this winter during the first normal festive season in years.
But
experts tell DailyMail.com that XBB.1.5 is
not more dangerous than other variants
, and that the winter rise was always to be expected because respiratory diseases spread more in the colder months when people spend more time indoors.
There are also fears that the rampant outbreak in China could spawn a new dangerous variant.
Those fears prompted the World Health Organization to today urge countries to
bring back mask mandates on airplanes
.
But there is little evidence that face masks and testing reduce infection rates, while mounting research suggests covering faces in classrooms
stunts social development
in children and weakens their immunity.
Schools in two states have, however, pushed ahead with face mask requirements — joining those in Pennsylvania, New Jersey and Washington.
Principals at Chelsea Public Schools, Boston — which has 6,000 pupils across 10 elementary and high schools in Boston, Massachusetts — told parents in a letter Monday that masks would be required in classrooms.
Superintendent Dr Almi Abeyta wrote they were bringing in the rule a week after term began because the CDC had designated their county 'high risk' for Covid transmission.
'As a result of this designation, Chelsea Public Schools will implement a mask mandate, effective on Monday, January 9,' he said.
'Masks must be worn in school buildings at all times except when eating or drinking.
'Mask wearing will continue to remain mandatory for any person visiting our school health offices, and anyone returning to school from a five-day quarantine following a positive Covid diagnosis.'
The rule is set to remain in place until such a time as Covid levels start to fall in the county, meaning it could last for weeks.
Ann Arbor Public Schools — which has 17,000 students across 32 elementary and middle schools in the city of Ann Arbor, Michigan — followed suit yesterday bringing back its mask mandate as children returned from the Christmas holidays.
Officials said this was to head off a wave of Covid cases, an to avoid any further school closures due to respiratory illness after five took place in December.
Superintendent Jeanice Swift wrote in a letter to parents: 'The Ann Arbor Public Schools will require well-fitting masks to be worn by students, staff and visitors while indoors in AAPS schools, beginning on January 9th and during the first two weeks following the winter break.
'Extra masks are available at all school buildings for use by students and staff.'
The schools join Massachusetts system Boston Public Schools (BPS), which brought in masking requirements last week to avoid a tide of Covid infections.
Principals insisted at the time that it was an 'ask and expectation' but 'not a mandate'. They said any children not wearing a face mask would not be sent home.
The School District of Philadelphia and Camden City Public Schools in Pennsylvania and Paterson Public Schools in New Jersey brought in mask mandates last week
for the first 14 days of term.
Last month Wilson Elementary School in Washington state also mandated face masks for a week to head off rising winter infections.
In another sign of Covid restrictions leaching back into public life,
this week Chicago Public Schools — which has 340,000 pupils in Illinois — said all children needed to show proof of a negative Covid test before being allowed to return
to classrooms for the new term.
A notice from the school read: 'In order to keep our school communities safe, please test for Covid before returning to school.
'If you test positive, please report the positive test using the Covid Self-Reporting Form, and follow the guidance outlined on our safety page.'
The school system returned to lessons this week after the winter break.
There are also now signs that mask hysteria is spilling over into colleges across the country.
This week the University of Massachusetts, Boston, brought back face masks for its 16,000 students.
In a campus memo released Friday they said the move was in response to the CDC's community risk level for Covid in the county being raised from 'medium' to 'high'.
It read: 'While on-campus transmission has remained low and our very highly vaccinated population continues to have strong protection against severe disease, we nonetheless will continue to follow the CDC guidance.
'For the sake of the health of our campus and community, we are hopeful that this latest wave of the Covid pandemic will pass quickly.
'We extend a heartfelt thank you to all our students, faculty and staff for your continued vigilance in keeping our community safe.'
Duke University in North Carolina is also threatening to bring back masks within two weeks should cases remain high.
It would be at least the second college to do so
after the University of Massachusetts reinstated its mask mandate on Monday.
Students expressed concern over the move by Duke University yesterday, saying it would 'not be popular' and that people 'hate masks'.
Freshman Evelyn Wilson told
ABC11
: 'I'd be surprised if the mask mandate was brought back honestly.
'I think a very popular opinion is people hate masks and that they are such a hassle. [But] I don't really have a problem with them.'
Freshman Aissatou Diallo added: 'Yeah masks are annoying to wear but whatever.
'I feel like I don't know enough about it to say no masks or yes masks; I'm going to follow what other people are saying.'
Last week the US quietly extended its vaccination proof requirement until April.
And America has introduced the requirement for Chinese travelers to
test negative for Covid
before being allowed to enter the country.
While Covid cases have risen slightly after Christmas
, flu has ebbed after surging early this year likely due to lower immunity levels.
The latest CDC data shows
a total of 11 states now have 'very high' flu levels, about half of the 21 states hitting this threshold in the previous week.
Cases and hospitalizations with respiratory syncytial virus (RSV) are also dropping. About 2.4 people per 100,000 were admitted to wards with the disease in the third week of December, the latest available, down from 3.3 previously.
But despite the ebbing tide of infectious diseases, schools in a total of five states have moved to bring back mask requirements.