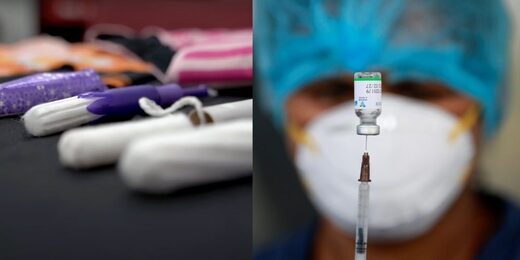 A recent study has shown that almost half of women who took the Covid
vaccine
have reported changes to their menstrual cycle.
The journal
Science Advances
published the results of a study on Friday articulating links between the Covid
vaccine
and changes to menstruation. They found that
"42% of people with regular menstrual cycles bleed more heavily than usual."
The study also showed that women who were post-menopause or who use long-term contraceptives reported unexpected breakthrough bleeding after taking the vaccine.
NBC reports
that the survey was conducted with 39,000 participants between the ages of 18 to 80 who were vaccinated with Pfizer, Moderna, AstraZeneca, Johnson & Johnson and Novavax vaccines. People between 45 and 55 were excluded to avoid inclusion of body changes due to menopause.
Study co-author Katherine M.N. Lee
said
the people to blame for the misinformation about vaccines and menstruation are white men. She said menstruation, "gets ignored because of the structure of science."
"There are very few senior people in science and medicine who are not white men," Lee said. "It's just not something they are thinking about as part of their lived experience."

Comment: They never miss an opportunity to blame white men. Don't blame the overt corruption that allows unsafe Big Pharma products onto the market after insufficient safety testing. No, it's about skin color.


In 2021, many reports of changes to menstruation linked to the Covid
vaccine
were called anecdotal or labeled misinformation.
In April 2021,
The Guardian
published an article
saying that "no data" linked the vaccine to menstruation side effects and stated, "Experts are trying to assuage concerns and combat misinformation about how the Covid-19 vaccines may affect menstrual cycles and fertility, after anecdotal reports that some people experienced earlier, later, heavier or more painful periods following the jab."
Later into the summer, many women were expressing concerns that the changes in menstruation could be linked to fertility issues. Science Advances noted that
"individuals and organizations conflated the possibility of short-term menstrual changes with long-term harms to fertility."
Those organizations included establishment news outlets such as NPR and Axios as well as the NIH.
By July 2021, NPR
published an article
titled, "The Life Cycle Of A COVID-19 Vaccine Lie" and quoted Alice Lu-Culligan, an MD-PhD candidate at Yale University, who downplayed the connections and said the "vaccine could temporarily alter" the menstruation process at worst. The article maintained that "a mountain of scientific evidence" showed that "the vaccines are safe and effective."
NPR, which recently launched a
disinformation division
, issued a correction not about the link, but noting that the writers used the word "woman" instead of "people who menstruate" when first published in 2021.

Comment: LOL, quality reporting from NPR, as usual.


In October 2021,
Axios
labeled "anecdotes about COVID-19 vaccines affecting a person's menstrual cycle" as "disinformation" used to stymy "efforts to halt the pandemic."
By January of this year the
Imperial College of London
wrote the "COVID vaccination impact on menstrual cycle appears to be small and short lived."
A January 13
Salon article
by Nicole Karlis boasted, "After fighting misinformation," women "Don't worry - the COVID vaccine could affect your period, but it's temporary."
And on January 25 the National Institute of Health (NIH)
reported
that cases linking Covid vaccines to menstrual changes were "small" and "reports represent only a small portion of vaccinated women."
As reported by several news outlets across the last two years, several notable women including
Katalin Kariko
,
Kizzmekia Corbett
, and
Nita Patel
were integral in the creation of the Covid vaccines.