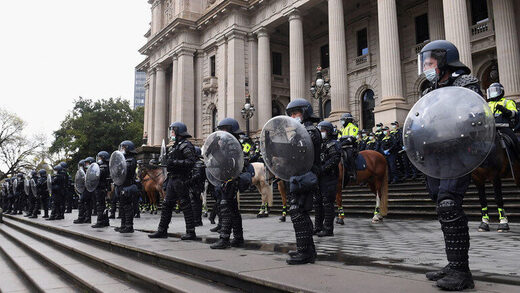 Prime Minister Scott Morrison has teased fellow Australians with a return to some normalcy by Christmas, provided they vaccinate in large enough numbers and pressure provincial governments to cooperate.
The Australian leader hailed his government's handling of the Covid-19 pandemic on the sidelines of a multilateral Pacific security summit in Washington, DC. "Sadly, here in the US more lives have been lost in one day than we've had over our entire experience in the pandemic... But
we've also got to give people their lives back,"
he
said
in an
interview
with Channel Seven.
"We can ensure that Australians can go forward and not be held back by the strong controls we've had to live with.
They've got a use-by date on them."

Comment: We'll see about that. Because in the UK they're hoping to, yet again, extend these 'emergency' powers.


Australia has had some of the strongest anti-coronavirus measures in place and has been aggressively enforcing them. A boiling frustration with the lockdowns was highlighted this week by violent protests in Melbourne. They were spearheaded by construction workers, who were ordered to suspend all work without pay
after the Victoria government reported wide-scale violations of health guidelines in the industry. The protests were generally dismissed by Australian officials as the actions of a small radical minority venting their anger.
Comment:
Union officials attempted to
smear
the protests saying it they had been "heavily infiltrated by neo-Nazis and other right-wing extremist groups", despite having no evidence and subsequent protests proving that these were in fact normal workers that were understandably furious that - after working throughout the last 18+ months of lockdown - they were threatened with the sack if they declined to suffer the experimental coronavirus injections.
Speaking to the Weekend Sunrise program, Morrison offered a vision of a Christmas without the worst of the restrictions, including the ban to cross interstate borders in Australia.
"Once you go to 80% of your population that is vaccinated, I can't see any reason why Australians should be kept from each other," he said
, challenging provincial governments to deliver on their part. He said within weeks there will be enough vaccine doses in Australia to jab everyone who wants it.
Comment:
Meanwhile in
Norway
, Sweden, and Denmark vaccination rates are around 70% and the governments there have dropped lockdowns. Notably, no officials have thus far given an explanation for why 'the science' is different in different countries.
His message to Australians, the PM said, is that what
he would "like them to have for Christmas is their lives back; and that's within the gift of governments and that's a gift I'd like to see us give them."
Comment:
Considering the
brutal
and
torturous
conditions some Australians have had to endure of late, this deviant use of language shouldn't be surprising, because it accurately reflects the authoritarian mindset of the PM and his ilk perfectly.
Here's Deputy Premier John Barilaro MP stating outright that the unvaccinated "will lose their freedoms on the 11th of October":
Even if lockdowns are lifted, he warned, some "sensible" restrictions will remain, like
"QR-code logins
and all that sort of stuff, wearing masks
, perhaps occasionally in particular settings."
The promise was criticized by Australian opposition, who see it as unreasonably optimistic and an attempt to cover up for the federal government's failures. Queensland Deputy Premier Steven Miles suggested that Morrison "should focus on his job" rather than "what might happen in Queensland in a few months' time."
"I don't think Queenslanders will
want to let Covid in for Christmas
if we don't have it but New South Wales still does," he added.
Anthony Albanese, the leader of the opposition Labor Party, blasted the PM, saying
he had no credibility whatsoever since he had already promised Australia a normal Christmas last year, but failed to deliver
. "If Scott Morrison had ordered enough vaccines and built a national quarantine,
everyone would be home and vaccinated by now
," he tweeted. Several fellow Labor members
voiced
similar criticisms.

Comment: Why does the leader of the supposed opposition assume that 'everybody' would want to be vaccinated? As attested by the coercion and the unrest, clearly a significant number of people do not want the injections.


Morrison earlier exposed himself to much mockery when he hailed Australians as a freedom-loving nation during a speech at the UN
General Assembly. His words contrasted heavily with footage of Australian police cracking down on anti-lockdown protesters and enforcing the health rules.
The Australian government didn't make vaccines against Covid-19 mandatory, a fact that he stressed in the Sunday interview. But
some private companies and provincial governments have been strong-arming employees into taking the jabs. About 86% of Australians aged 16 and over have received at least one dose, with more than half of them fully vaccinated.