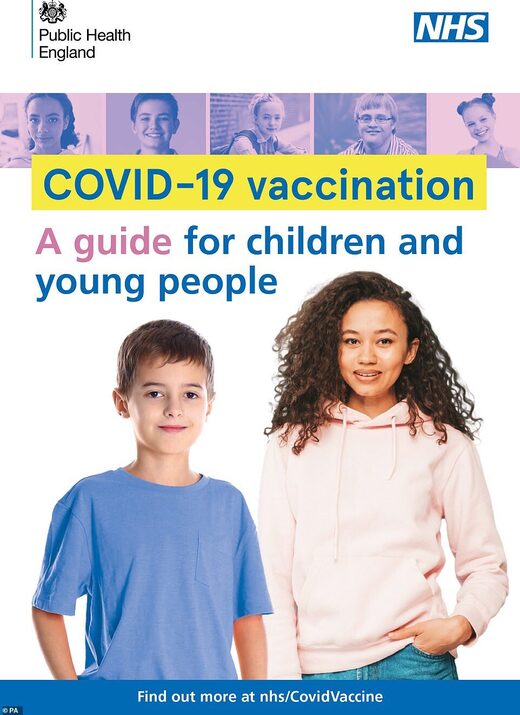 Fury has erupted tonight after ministers confirmed plans to vaccinate all children over 12 across the UK from next week - with experts and parents warning it may lead to unvaccinated pupils being 'bullied' and could even 'tear families apart'.
Vaccines minister Nadhim Zahawi confirmed the plans
to offer a single Pfizer jab
to healthy 12 to 15-year-olds during a speech to the House of Commons tonight.
Comment:
Why have they specified that it must be the highly experimental mRNA injection from Pfizer? It's as dangerous for young people, if not more so, as the serious side effects and
soaring
mortality in Israel proves. Why only a 'single' jab? Didn't they say that adults would only need ONE jab and now Israel mandates FOUR? Elsewhere they're working their way up by calling them '
boosters
'.
It's telling that the UK's Joint Committee on Vaccination and Immunisation (JCVI), that is considered to be biased regarding the claimed benefits of vaccines, voted last week that it did
not
consider Covid injections for children to be beneficial. The UK government ignored this guidance and is instead ramming through its unscientific and potentially harmful plans to continue the experiment on children.
Much of the following Twitter on the ruling by the JCVI by a university lecturer in biomedical sciences is worth a read:
But he reiterated that
the final decision whether to have the jab would be down to children - and not their parents
.
However, amid fears the policy could lead to family arguments, he told MPs: 'Whatever decision is made, they (children) must be supported. No-one should be stigmatised, no one should be bullied for making a decision.'
Mr Zahawi also reiterated the safety of the vaccine for children, saying the decision to offer the jab to 12 to 15-year-olds had followed advice from the Joint Committee on Vaccination and Immunisation (JCVI).
He said
the decision had also been 'unanimously approved' by the UK's four chief medical officers - including England's Chief Medical Officer Professor Chris Whitty
.

Comment: At the very least we now know that these CMO's cannot be trusted.


'We will now move with the same sense of urgency we've had at every point in our vaccination programme,' he added.
Meanwhile, Health Secretary Sajid Javid said in a Tweet tonight: 'I have accepted the unanimous recommendation from the UK Chief Medical Officers to offer vaccination to those aged 12 to 15.
'This will protect young people from catching COVID-19, reduce transmission in schools and help keep pupils in the classroom.'
Comment:
This is a blatant lie because it's now common knowledge that the vaccines do not prevent infection nor transmission, moreover, they are many times
inferior
to natural immunity, and they are
known
to cause the more virulent variants.
It comes as parents, experts and teaching unions today warned of tension in schools after the UK signed off on plans to offer Covid jabs to healthy 12 to 15-year-olds — which will see children get the final say on whether they are vaccinated.
Around 3million under-16s are due to start getting their jabs from next week
after Professor Whitty endorsed the move today, claiming it would help prevent outbreaks in classrooms and further disruptions to education this winter.
Comment:
Rolling lockdowns over a relatively harmless virus have been ongoing for nearly 18 months now, with schools shuttered for much of that time, and experts from all fields have been decrying the
damage
it was causing children's mental health; meanwhile supermarket staff, builders, delivery people, medical staff, and so on, still went to work; taken together, any claims that they're concerned for children's well-being is proven false by their contraditory and nonsensical actions.
Doses will be largely administered through the existing school vaccination programme and
parental consent will be sought
.
But
children will be able to overrule their parents' decision
in the case of a conflict if they are deemed mature and competent enough, which has caused fury
.
Comment:
These are the same authorities that think vulnerable children should be able to 'change gender' for the
price
of a takeaway meal.
Angry parents fumed against the move to leave the decision with
young children who 'can't even decide what they want for tea
, never mind' a vaccine, which carry small risks of
side effects such as heart inflammation
.
Professor Simon Clarke, a microbiologist at the University of Reading who is in favour of jabbing children, warned that giving youngsters the final say could lead to
pupils being bullied by their peers into taking the jab
.

Comment: No bullying is required. Just see how children become desperate to get the 'latest trainers' because all their friends have them.


He told MailOnline: 'It will cause rows I think... You may end up in a situation where a minority, it will probably be the unvaccinated, get bullied and excluded by other children.'
Earlier
headteachers revealed they had already received letters from pressure groups threatening legal action
if schools take part in an under-16 vaccination programme.
The teachers' union NAHT demanded urgent reassurance medics will be responsible
for concerns about consent and vaccination rather than being left to schools, which could lead to tension with parents.
Children's rights campaign group UsforThem said it needed a 'cast-iron guarantee' from the Government that all parents would get the final say on whether their child is vaccinated.
Professor Whitty revealed today that children will be able to override their parents' decision
if they pass a 'competence assessment' by the medical professional charged with administering the vaccine
.
Under decades-old medical law used for other routine vaccines, youngsters get the final say if they are judged to have sufficient intelligence to be able to fully understand - and therefore consent to - vaccination.

Comment: Just because a law is 'decades old' it doesn't mean it's right.


The scientific community has been split over vaccinating healthy children against Covid because the virus poses such a low risk to them. No10's own advisory panel said earlier this month that immunising healthy under-16s would only provide 'marginal' benefit to their health
, and not enough to recommend a mass rollout.

Comment: And this advisory panel was biased to begin with and it still couldn't find reason to inject children.


The decision was left with Professor Whitty and chief medical officers
in Scotland, Wales and
Northern Ireland
, who looked at the wider benefits to society, including keeping classrooms open.
Comment:
Proof that parents no longer have a say in the welfare of their own children; a
demonstrably
corrupt government, an
inept
Professor and faceless CMOs do.
Outlining the decision to press ahead with the move in a Downing Street press conference, Professor Whitty
said there were 'certainly no plans' at the moment to vaccinate children under the age of 12.

Children won't be given a second dose until more data on the rare complication myocarditis becomes available.
Dr Renee Hoenderkamp, an NHS GP and mother, accused officials of 'giving up on science' by pressing ahead with the school roll-out despite No10's advisory panel ruling that jabs provide only 'marginal' benefit to children's health.
Meanwhile, the UK today recorded 30,825 positive Covid tests, down by a quarter on last week's count. Hospital admissions fell by around 14 per cent in England, but deaths rose by around 36 per cent to 61.