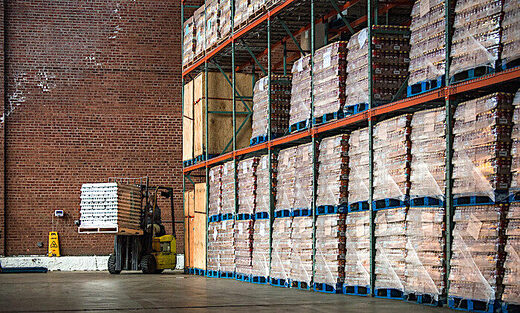 With every passing day, it is becoming more evident that
COVID is just a codeworded operation which allows for the preparation of a major coming disaster that governments have been hiding from the general public all along.
It has now been exposed by various news outlets that various U.S. states have been competing with one another to
stockpile and pack full their warehouses with food in preparation for what's coming.
Millions and millions of dollars have been spent by numerous states on disaster preparedness since April of this year and it has been causing interruptions in the food chain.
However, government leadership and the
mainstream media would like its citizenry to feel as if they have caused the problem by clearing out stores from panic buying.
A report out of the
Seattle Times
titled "From peanut butter to applesauce, Washington state stockpiles tons of food for the need ahead" reveals that the state has enough peanut butter alone stockpiled away in a warehouse to make about 3 million sandwiches.
"Barilla pasta boxes stretch to the ceiling, 100,000 in all. Large stacks of TreeTop applesauce, pancake mix and canned green beans sit on pallets, like soldiers waiting to be sent into duty," the report explains. "Since the coronavirus crisis first rocked Washington in March, nonprofits and state agencies working in food assistance have been forced to draw a completely new road map for getting food to people who need it."
The report goes on to state that about 30% of Washington State's population is thought to be at risk for hunger in the coming days.
Local news outlet
KIRO 7
interviewed Washington State Department of Agriculture Director Derek Sandison who said that
the purpose of the COVID Strategic Reserve, as it's called, is to provide shelf-stable food to help support hunger prevention efforts around the state.
Sandison told
KIRO 7
that the state is setting it all up to be able to deploy food to any part of the state within a 48 hour period if the need were to arise. "There is an extremely high demand - we're competing with every other state - we are competing in some cases with national organizations that are trying to feed America."
But all of this is more concerning than comforting, as the
U.S. government has been diligently hoarding food behind the backs of all Americans along with stockpiles of masks, and ventilators.
All of this dovetails with
a government whistleblower's testimony
that both the U.S. Department of the Interior and the U.S. Department of Defense are also
preparing for some type of upcoming calamity
possibly unrelated to COVID.
About the Author:
Shepard Ambellas is an opinion journalist, analyst, political pundit, nationally syndicated radio talk show host, and the founder and editor-in-chief of Intellihub News & Politics (Intellihub.com). Shepard is also known for producing Shade: The Motion Picture (2013) and appearing on Travel Channel's America Declassified (2013). Shepard is a contributor to Alex Jones' Infowars platform and is also a regular on Coast To Coast AM with George Noory.