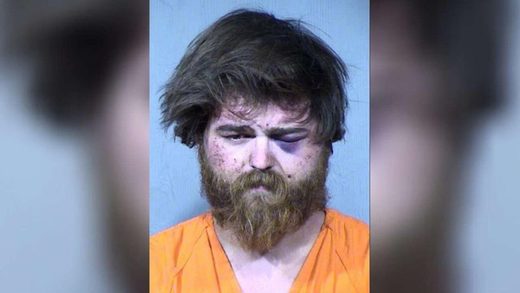 A Scottsdale man is facing more than two dozen felony charges after he allegedly shot at several people and threatened others, including some teens, at Needle Rock Beach in the Tonto National Forest earlier this week. According to court documents, people at the recreation area "were able to subdue" Jacob Trey Valentino and "restrain him" until deputies got there.
It happened Monday, May 18. According to the probable cause for arrest statement, Valentino, 26, was fishing along the Verde River when he fired a Glock 42 handgun at a family that was nearby. Two kids younger than 15 and five who are older than 15 were part of that group. As the family ran to the parking area, Valentino, still armed, headed the same direction and got into his car.
Investigators said a witness told them that Valentino then got out of the car and walked toward a group of five teen girls who were standing outside their vehicle. The witness said Valentino still had the gun.
One of the teens told police she had seen Valentino in the parking lot earlier and thought he appeared to be drunk, according to court documents.
The probable cause for arrest statement says Valentino ordered the girls to get into their car and "advised them that he wanted to take their vehicle with them inside." The girls reportedly told investigators that Valentino pointed his gun at them, alternating back and forth between the driver and the front-seat passenger.
At that point, according to investigators, another man intervened and confronted Valentino.
That man said Valentino pointed the handgun at him; heard said he heard the Glock "click." The man told investigators said Valentino threw the weapon at him after it "failed to discharge."
That man, with the help of others, then "subdued Jacob and restrained him until MCSO units arrived on scene." Valentino has a black eye in his mug shot.
Investigators did not say anything about what might have sparked the shooting.
Valentino's public court paperwork lists more than two dozen possible felony charges.
Valentino's public court paperwork lists a variety of charges, including 14 counts of aggravated assault with a deadly weapon and one of attempted murder in the second degree. The documents also indicate he had been arrested and failed to appear in court on at least one occasion. The details, however, were redacted.
A judge set a secured-appearance bond of $1 million and mandated electronic monitoring and supervision by Pretrial Services should he post it.