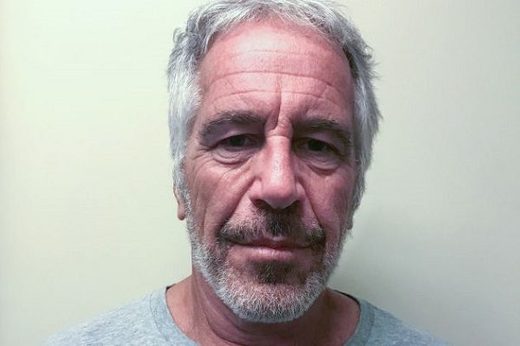 Accused child sex trafficker Jeffrey Epstein is willing to post bail as high as $100 million, his lawyer said Monday, as a prosecutor argued that the case against the wealthy investor is "already significantly stronger and getting stronger every single day."
Two accusers of Epstein also urged Judge Richard Berman at a detention hearing in Manhattan federal court to keep him locked up without bail, as prosecutors also are arguing.
"Your honor, my name is Courtney Wild and I was sexually abused by Jeffrey Epstein at the age of 14," one of the accusers said. "He is a scary person to have walking the street." Wild said that she was abused by Epstein in Palm Beach, Florida.
The other accuser, Annie Farmer, told Berman, "I was 16 years old when I had the misfortune of meeting Mr. Epstein here in New York."
"I want to voice my support" that Epstein not get bail, Farmer said.
"We know they have found photos of young women in his home," she said.
Before the accusers spoke, assistant U.S. Attorney Alex Rossmiller said that a number of other witnesses contacted authorities after Epstein was recently indicted, and that prosecutors are trying to corroborate their allegations against him.
Rossmiller also revealed that
investigators found in Epstein's $77 million Manhattan townhouse a locked safe containing "piles of cash" and "dozens of diamonds," as well as an expired passport dating to the 1980s from another country that has Epstein's photograph on it — but with a different name and a stated residence of Saudi Arabia.
Rossmiller also said that "many, many photographs" of young-looking girls were found in the safe, and that the prosecutors have identified at least one person among them claims to be a victim of Epstein's.
Epstein's lawyer told a judge that he was authorized by Epstein to agree to whatever bail conditions the judge sets, even if he sets bail at a whopping $100 million.
The lawyer, Martin Weinberg, said that contrary to numerous media accounts, Epstein is not a billionaire.
Rossmiller fought back against a call by Epstein's lawyers that he be released on bail and then confined, with few exceptions, to the Upper East Side townhouse, with round-the-clock monitoring by security paid for by Epstein, as well as an electronic tracking device.
"What the defendant is asking for here is special treatment, to build his own jail, to be limited in his own gilded cage," Rossmiller said.
Berman, the judge, said that he would not rule until Thursday whether the registered sex offender Epstein, 66, should be allowed to post bail.
And he said that he was inclined to unseal Epstein's financial information, which was filed under seal last week as part of his bail application, unless prosecutors or defense lawyers could convince him it should remain out of public view.
Prosecutors have said Epstein — a former friend of presidents
Donald Trump
and
Bill Clinton
— sexually exploited dozens of underage girls from 2002 through 2005 at his townhouse and Florida mansion.
Some of the girls were as young as 14, according to prosecutors, who say Epstein sexually abused them after luring them into his homes on the pretext of giving him massages, and then paid them cash.
Rossmiller, arguing that Epstein should not get bail, said his "dangerousness" to the public included his prior efforts at "witness tampering."
Rossmiller said that in addition to prosecutors, the federal office of pre-trial services believes Epstein should be detained without bail.
And he noted that there is a presumption that a defendant charged with sex trafficking should be denied bail.
Rossmiller said that the Manhattan U.S. Attorney's office recently learned of
Epstein paying $350,000 to two possible co-conspirators.
Weinberg, the defense lawyer, said prosecutors have not shown those payments were not "an act of generosity."
But Rossmiller shot back that, "The idea that Mr. Epstein was feeling particularly generous to his former colleagues days after" an explosive
Miami Herald
article about Epstein was published "is just not credible."
Prosecutors also have called Epstein
a serious flight risk, given his significant wealth.
"He has every incentive to flee if he is released," Rossmiller said.
In a court filing last Friday, prosecutors said that Epstein is worth at least $500 million. Rossmiller said Monday that Epstein had a single account that contained more than $100 million.
Citing the evidence against him assembled to date, Rossmiller said, "If he chooses to be tried before a jury of his peers we are confident he will be convicted."
Epstein's defense lawyer Weinberg told Judge Berman during the hearing that a non-prosecution agreement which Epstein reached with the U.S. Justice Department in 2007 meant that federal prosecutors in New York cannot charge him in the current case.
The new case contains allegations of conduct during the same time frame covered by the earlier deal.
Geoffrey Berman, the top federal prosecutor in Manhattan, has said the non-prosecution deal is only binding on federal prosecutors in Southern Florida.
Berman attended Monday's hearing.
Weinberg told the judge Monday that prosecutors have not shown that Epstein continued being involved with underage girls in the past 14 years, after he pleaded guilty to a single Florida state charge related to sexual misconduct with a girl in 2008.
Weinberg suggested to the judge that pre-trial release is crucial for Epstein's ability to prepare a strong defense. He also argued that the lack of accusations against Epstein since 2005 suggest that Epstein does not represent a "future danger."
"He wasn't a predator that couldn't control his conduct," Weinberg said. "He disciplined himself ... A 14-year gap is an eloquent rebuttal."
When Judge Berman noted that he has read research which says the chance of recidivism of sex offenders increases over time, in contrast to claims by Epstein's lawyer that it decrease, the defense lawyer pushed back.
Weinberg, while noting that he did not want to downplay the allegations in the case, said that the accusations against Epstein are "far away from the heartland" of the sex-trafficking statute with which he is charged.
"It's not like he's an out-of-control rapist," Weinberg said. "He doesn't fit the paradigm."
Berman responded, "How do you know that?"
The judge also said that he was "not sure that the passage of time" indicates the "discipline of the defendant."
And the prosecutor Rossmiller said, "This idea he has disciplined himself is a concession that he has an appetite for children."
"They concede that he has to discipline himself," the prosecutor said, referring to Epstein's defense team.
Epstein said nothing during the hearing, but passed a few handwritten notes and gestured to his attorneys periodically.
He was clad in the same outfit he wore during his initial presentment in court last week — a chunky, faded navy blue prison v-neck short-sleeve shirt over a brown t-shirt.
Epstein
was arrested July 6 at Teterboro Airport in New Jersey, just outside of New York City, after flying in there on a private plane from France.
He pleaded not guilty on July 8 during a court appearance Manhattan,
where a grand jury had indicted him on a one count of sex trafficking and a single count of conspiracy to committ sex trafficking.
Prosecutors have said Epstein sexually exploited dozens of underage girls from 2002 through 2005 at his Upper East Side townhouse and Florida mansion. Some of the girls were as young as 14, according to prosecutors.
They also have said investigators found a "vast trove" of lewd photos of young women, and possibly underage girls, when federal agents raided his New York residence last week.
After his arrest, prosecutors publicly encouraged other women who may have been abused by Epstein to contact authorities.
A number of people have responded to that request, Rossmiller said.
"The evidence is already significantly stronger and getting stronger every single day,"
Rossmiller told Berman, the judge.
Last Friday, Trump's Labor secretary, Alex Acosta,
resigned after a week of scathing criticism of his signing off on the no-prosecution agreement with Epstein in 2007, when Acosta was the top federal prosecutor in Southern Florida.
The deal allowed Epstein and his alleged co-conspirators to avoid federal criminal charges related to his alleged sexual exploitation of underage girls,
in exchange for a guilty plea by Epstein to a single Florida state charge of procuring an underage girl for prostitution.
As part of that deal, Epstein also had to register as a sex offender, and not to contest civil claims by his accusers. He
ended up serving 13 months in a Florida jail, but spent much of his time out on work release.