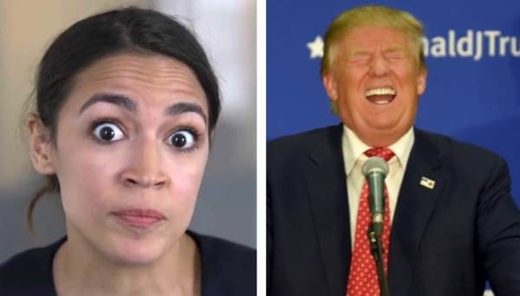 Democrat darling Alexandria Ocasio-Cortez released information on the Democrat Party's radical and lunatic Green New Deal on Thursday.
It was a complete disaster.
The Green New Deal is a Communist scam that included guaranteed income for Americans 'unwilling to work.'
The 14-page Commie wishlist also included a plan to transition to all electric cars and completely eliminate airplane travel - because trains over the ocean is a genius idea!
The Democrats also want to get rid of cow flatulence - which means all cows would be eliminated.
Within hours, the Green New Deal was
yanked from Ocasio-Cortez's webpage
.
It gets better...
Ocasio-Cortez's policy advisor appeared on Tucker Carlson's Fox News show on Friday night and claimed the Green New Deal document that Tucker Carlson and Republicans were reporting on was "doctored."
It was all a lie - the document Tucker Carlson read on his show was not doctored - it was taken directly off of Alexandria Ocasio-Cortez's website.
AOC even retweeted a tweet from far-left 'Media Matters' spreading the lie that the document was doctored.
President Trump mocked the Democrat-Green-New-Deal-clown-show on Saturday evening, calling the resolution, "Brilliant."