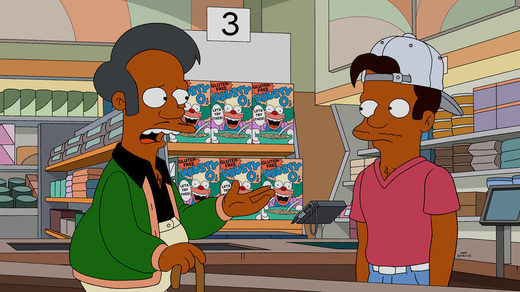 The creators of the hit cartoon
The Simpsons
have reportedly cut Apu Nahasapeemapetilon from any future episodes following claims that the long-running character depicts Indian and Asian stereotypes.
Kwik-E-Mart owner Apu, who is voiced by white actor Hank Azaria, first appeared in 'The Telltale Head' episode in 1990. However this year the character came under fire following the documentary,
The Problem with Apu
.
The controversy prompted Azaria to say that he is willing to step aside from the character if producers wanted to hire a more appropriate voice actor. He also called for an Indian or Asian writer to decipher how best to proceed with the issue.
The
Simpsons
producer Adi Shankar said he attempted to save the character following the fallout by crowdsourcing a script to tackle the 'Apu Problem'. Shankar even claims to have found the "
perfect script
" to give a funny and realistic portrayal of Indians in America. But his efforts were in vain as ultimately it was decided to quietly remove Apu from Springfield altogether.
"I've verified from multiple sources now: They're going to drop the Apu character altogether," Shankar said to
IndieWire
. "They aren't going to make a big deal out of it, or anything like that,
but they'll drop him altogether

just to avoid the controversy."
Shankar said the decision to back down completely is a bad one, and sets a dangerous precedent for the show going forward:
"It's not a step forward, or step backwards, it's just a massive step sideways."
"If you are a show about cultural commentary and you are too afraid to comment on the culture, especially when it's a component of the culture you had a hand in creating, then you are a show about cowardice," he said.
"After having read all these wonderful scripts, I feel like sidestepping this issue doesn't solve it when the whole purpose of art, I would argue, is to bring us together."