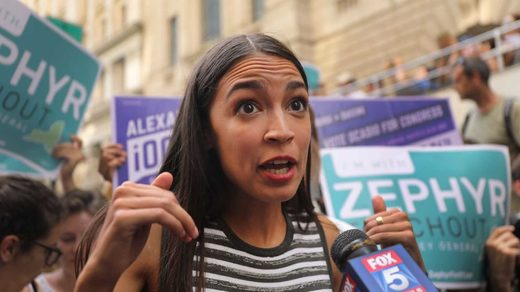 Democratic socialist and Congressional candidate Alexandria Ocasio-Cortez may rail against the evils of capitalism in her stump speeches, but her campaign, it seems, has been happily cashing checks from big banks and Wall Street private equity firms.
According to Open Secrets
, Ocasio-Cortez's top donors are "Justice Democrats" - a Democratic socialist national organization - and the Soros-funded activist arm, MoveOn.org. But among her top ten donors are "big bank," J.P. Morgan Chase & Co., and Elevation Partners, "
an American private equity firm
that invests in intellectual property and media and entertainment companies."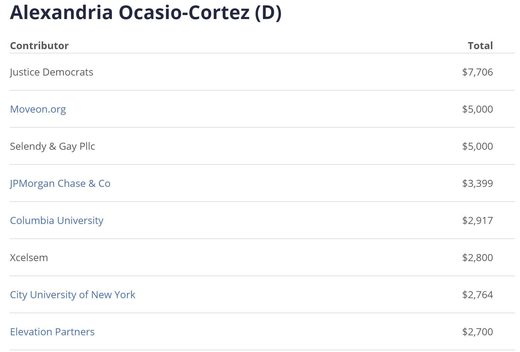 The numbers don't add up to much - JP Morgan gave $3,399 to Ocasio-Cortez and she received around $2,700 from Elevation Partners - but her race isn't a magnet for big money. Even her top donor, Justice Democrats, has given only around $7,000, and it's still early in Ocasio-Cortez's campaign.
In fairness to Ocasio-Cortez, taking money from potential political opponents is common among ideological "socialists" within the Democratic Party.
Elizabeth Warren (D-MA)
regularly cashes checks from corporations
like AT&T and Comcast, newly-minted "Democratic socialist" and anti-ICE activist, Sen. Kirsten Gillibrand (D-NY) counts Bank of America, Morgan Stanley, the Blackstone Group, and even pharmaceutical giant Pfizer among her choice contributors. Sen. Bernie Sanders (I-VT) took money from Microsoft, Apple, IBM, Boeing, Amazon and health care giant Kaiser Permanente.