At all levels of society, autism spectrum disorders (ASDs) are exacting a heavy toll. On a purely economic level, the demand for special services and care for an escalating number of autistic children (and, increasingly, adults) is stretching
families
,
schools
and
health care systems
to the breaking point. In 2014, a comprehensive analysis of
ASD costs
published in
JAMA Pediatrics
placed autism's annual financial impact in the U.S. at $236-$262 billion-roughly seven times more than the $35 billion estimated in
2007
.
Some researchers, improbably and disingenuously, still
dispute
whether the increase in autism prevalence is "real." However, a
new study
in the
Journal of Autism and Developmental Disorders
carefully strives to lay any lingering doubts about the ASD epidemic's alarming momentum to rest. In fact, using the best data currently available, the study shows a consistent and strong upward trend and a rate of increase that has accelerated over time and particularly since the late 1980s.
California as the bellwether state
To zero in on autism prevalence over a period of decades, the authors first assembled data from the
California Department of Developmental Services
(CDDS), which, in the researchers' estimation, represents "the most reliable long-term record of autism prevalence trends in the United States"-especially for individuals with significant functional disabilities at the more severe end of the autism spectrum. (CDDS does not serve those with less disabling ASD manifestations such as Asperger's). Analysis of 13 years' worth of CDDS reports (going back to birth year 1931) uncovered the following time trends:
A gradual "creeping upward" of autism prevalence from "near-zero levels" since around 1940
A more rapid rise beginning in 1980
An even more pronounced "change point" between 1988 and 1990
A sustained period of rapid increase in the 1990s, followed by a brief tapering off in the early 2000s
Another accelerated rate of increase as of 2006 or 2007
To increase the trustworthiness of their findings, the authors used two different approaches to analyze the California data (abbreviated as the "tracking" and "snapshot" approaches). The figure below shows that the two independent methods produced largely consistent results, with both highlighting a steep increase over time. (The red triangles show "tracking" data for eight-year-olds at different time points beginning in 1997; the blue squares depict a "snapshot," with the ages of various birth cohorts as of 2017 labeled at points along the blue curve.)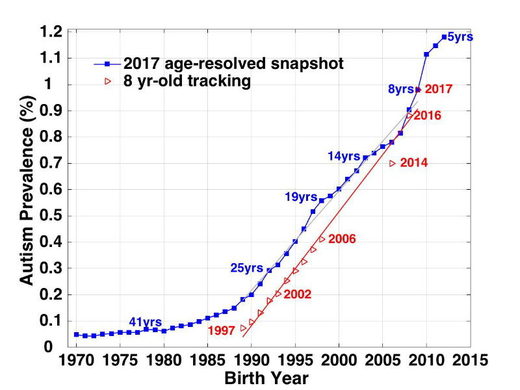 The authors characterize the 2017 "snapshot" results as particularly dramatic, "especially when viewed in the context of the full span of data extending back to birth year 1931." Quantifying the extraordinary increase, they state:
"Across birth cohorts...CDDS autism prevalence has increased by a factor of 25 from birth years 1970-2012 and by a factor of 1,000 from birth years 1931-2012" - representing an "all-time high" [emphasis added].
State-to-state variation
The study also examined autism trends in states beyond California, using datasets that include a larger share of milder ASDs. For this objective, the researchers compiled data from two federal agencies that have collected autism information on an ongoing basis for many years: the Department of Education's
Individuals with Disabilities Education Act
(IDEA) database and the Centers for Disease Control and Prevention's (CDC's)
Autism and Developmental Disabilities Monitoring Network
(ADDM). IDEA collects annual special education enrollment counts for all school children diagnosed with autism (among other disability categories), while ADDM uses health and/or education records to gather ASD prevalence information (solely for eight-year-olds) every two years in selected states and counties.
Comparing "tracking" trends in 16 states for eight-year-olds born in the early 2000s, the researchers found that autism prevalence varied by state by a factor of roughly two to four. Thus, for IDEA, prevalence ranged from 0.62% (Colorado) to 1.53% (Pennsylvania), while for ADDM (as of 2012) the range went from 0.57% in Alabama to a high of 2.46% in New Jersey. The authors hasten to clarify that New Jersey's numbers actually are far more likely to be accurate, due to the greater availability of comprehensive records in New Jersey; under-ascertainment of ASD by age eight in Alabama; and sampling differences within ADDM (e.g., urban versus rural) and between ADDM and IDEA (e.g., selected counties versus statewide). Independent of these methodological variations, "each state individually shows a statistically significant [and consistent] increasing trend in ASD."
Behind the numbers
Most media stories about autism rely on the CDC's ADDM figures as the authoritative source of information about prevalence. However, the most recent ADDM report, which indicates that ASD prevalence has gone from
one in 68
eight-year-olds born in 2004 (1.46%) to
one in 59
eight-year-olds born in 2006 (1.68%), describe trends for children who are now 12 years old. This begs the question of what is happening to children who are currently far younger, given that the
median age of autism diagnosis
is around four years of age. Moreover, blanket prevalence statements mask important subgroup differences-such as the disproportionate impact of autism on boys (2.66%) and the seemingly higher prevalence in states such as New Jersey (2.93% as of 2014). Considering state-to-state variations in case ascertainment and taking into account the many inconsistencies and continual changes in the ADDM sampling
methodology
, the authors advise caution "when citing a single number...as the overall rate of autism."
The authors concede the possibility that a small proportion-perhaps 13%-of the documented increase in autism prevalence (as per the CDDS data) may be due to other factors such as immigration or expanded diagnosis. Overall, however, their study decisively indicates that the bulk of the increase (at least 87%) "is due to a true rise in the condition." The detection of specific "change points" in the accelerating autism timeline-around 1980, 1990 and 2006-lends further credence to this conclusion, given that these moments approximately coincide with the periodic
expansion
of the pediatric vaccine schedule, which resulted in children's increased exposure to neurotoxic
thimerosal
in the early 1990s and neurotoxic
aluminum
in the mid-2000s. Ultimately, a 1000-fold increase in autism prevalence since the 1930s and a 25-fold increase over the past several decades should be front-page news-and prevention of any further rise in autism prevalence should be an urgent national priority.