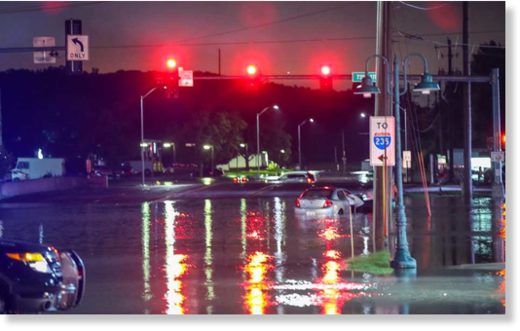 A 65-year-old man died after he was swept away in flash floodwaters in Des Moines.
Around 8:50 p.m. on Saturday, Des Moines police responded to a report of a stalled and occupied van in the flooded streets at 50th Street and Twana Drive. As officers responded, it was reported that the occupants had left the van, and that one person had been swept away in the flash floodwaters.
Officers and rescue personnel from the Des Moines Fire Department immediately began a search of the area.
Around 12:39 a.m. on Sunday, first responders found the man, deceased, several blocks away from the original call.
More information will be released Sunday morning, authorities say.
Heavy rain in central Iowa caused flash flooding across the Des Moines metro Saturday night.
The flooding is so extreme that the National Weather Service issued a flash flooding emergency.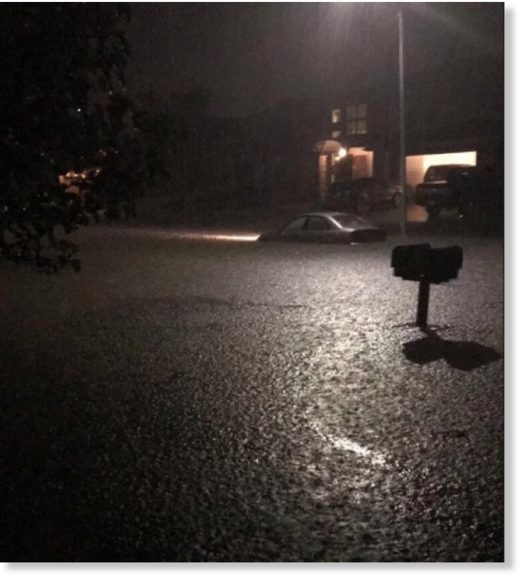 Ankeny is under a boil advisory, following a major water main break, according to a news release. While city staff investigate the location of the break, residents should boil their water before use or drink from bottled water.
Des Moines police are searching 50th Street and Twana Avenue on a report of a person who was swept away by flood waters, as of midnight.
And Clive has ordered residents and businesses along Walnut Creek to evacuate at heavy rains have cause extensive flooding along the creek.
Multiple water rescues were performed in Ankeny, Johnston, Des Moines and Urbandale, according to Iowa State University Environmental Mesonet data. Vehicles are reportedly stalled out with water halfway up the doors of the cars.
The severe weather was also causing power outages. Nearly 20,000 MidAmerican customers were without power shortly after midnight Saturday.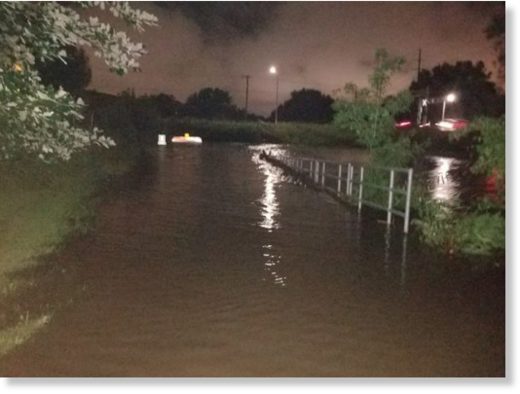 The weather service issued a flash flood warning in effect until 4:15 a.m. for Jasper County. Shortly after 10:15 p.m., 2 inches had already fallen and NWS said that another 3 inches was possible.
The area includes Interstate Highway 80 between mile markers 150 and 180.
A flash flooding warning was also in effect until 9:15 a.m. in northern Polk County. This included Interstate Highway 35 between mile markers 93 and 101.
Trained weather spotters had reported seeing over 5 inches of rain, according to NWS.
Some locations that will experience flooding include Ankeny, Polk City, Granger, Saylorville Lake, Big Creek Lake, Elkhart, Alleman, Sheldahl and Big Creek State Park
However, about 2:30 a.m., more thunderstorms may roll into the Des Moines metro from the northwest, bringing up to an additional 2 inches of rain if it doesn't dissipate, said Alex Krull, meteorologist with the National Weather Service in Des Moines. Most likely, it will bring half-an-inch to over 1 inch of rain.
"We've had a lot of water rescues take place across Des Moines, Kroll said.
Ankeny received the heaviest rainfall in the metro, with reports up to 7 inches, Kroll said.
In less than three hours Saturday, the metro saw 6 to 7 inches of rain,

possibly reaching record breaking levels,

Kroll said.
What's most alarming are the reports of flooding in areas that don't typically see that much standing water, Kroll said.
"We advise absolutely no travel through Polk County this evening," Kroll said.
Earlier, the Des Moines Fire Department was spread thin as they responded to severe weather-related calls.
The department was "extremely, extremely busy" with most units responding to flash flooding affecting northwest Des Moines, Rick Thomas, Des Moines Fire Department spokesman, said around 10 p.m..
Thomas said there were eight trapped vehicles due to flooding, some of which firefighters were struggling to reach.
There had been no reported injuries.
Firefighters also responded to a garage fire at about 9 p.m. at the 2300 block of Maple Street, which damaged the left side of the garage. Thomas said the homeowner believed lightning caused the fire.
Also, there were reports on the emergency services scanner of a partial building collapse of the Hobby Lobby building on Merle Hay Road.
The Des Moines Fire Department was still receiving frequent calls about flooded basements, gas odors and people being trapped in cars around midnight, Thomas said.
As soon as a crew is finished, firefighters are getting dispatched to another rescue, Thomas said.
Depending on overnight rain, Thomas hopes that most of the water will recede by Sunday.
"It's going to take time, but it will all recede and hopefully by morning it should be fine," he said.
The City of Johnston is advising residents to stay inside.
In Windsor Heights, 73rd Street is closed from Buffalo Road to Franklin Avenue including the intersection of University Avenue and 73rd Street. The bridge off of 73rd Street into the Walmart parking lot is closed. College Drive bridge is closed over Walnut Creek.
The National Weather Service in Des Moines reported that vehicles are stalling out on the ramps along Interstate Highway 235, due to the heavy flood waters.
Across social media, Des Moines residents posted photos and videos of stranded cars and people walking in knee-deep flood waters.

Outside of the new McAlister's Deli in Des Moines, a van was trapped in water so high, the hood was no longer visible at 5910 Douglas Ave.
Cars were going the wrong direction on the 22nd Street exit ramp off I-235, due to flood waters, according to a Twitter user.
Flooding hit Ankeny particularly hard, with residents posting videos of water flowing through streets and standing in backyards.