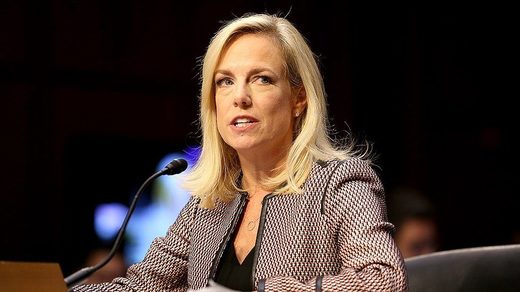 The latest instance of leftist rage is centered on the Trump administration's "zero tolerance" border enforcement policy, which has the inevitable result of temporarily separating children from the parents of illegal immigrants while they are processed and prosecuted prior to deportation.
One of the main targets for the leftist outrage is Department of Homeland Security Secretary Kirstjen Nielsen, who found herself the subject of an incredibly rude protest while she attempted to enjoy a quiet dinner
at a D.C.-area Mexican restaurant
on Tuesday evening.
"
How dare you
spend your evening here eating dinner as you're complicit in the separation and deportation of over 10,000 children separated from their parents?" screamed one male protester while Nielsen sat in silence.
"How can you enjoy a Mexican dinner as you're deporting and imprisoning tens of thousands of people who come here seeking asylum in the United States? We call on you to end family separation and
abolish ICE
!" the protester added.
As noted, leftists and Trump-haters cheered the display of intolerance by the anti-ICE protesters who descended upon Nielsen in the Mexican restaurant.
The
Washington Examiner
's chief political correspondent, Byron York, even noted a rather racist tweet in support of the protesters and against Nielsen that was posted by CNN's purportedly "Republican" panelist Ana Navarro, who had
tweeted
, "Are there no Norwegian restaurants in Washington, DC?" -
READ MORE