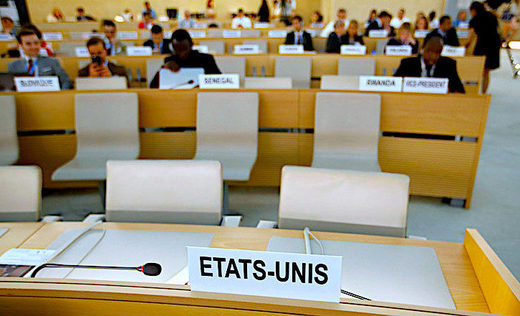 US National Security Adviser John Bolton said the US was right to ditch the UN Human Rights Council because Washington doesn't need its opinion on how to govern itself.
"Getting off the council is an assertion of American determination to stick by its constitution and not to recognize that there is some higher authority at the UN, whether it's the [Human Rights] Council or the High Commissioner for Human Rights, to judge our performance or to give us advice on how to implement the constitution," Bolton said on Thursday. "We're perfectly capable of doing that ourselves."

Comment: Apparently not.


Washington's decision to leave the UN's top human rights agency drew criticism from foreign partners, including some of America's closest allies. Yet, speaking to the TV channel Fox News, Bolton confirmed that it was the right move, and the White House is fine in handling its own affairs, without an opinion from outside.
"We don't need advice by the UN or other international bodies on how to govern ourselves,"
he reiterated.
Bolton, who was named national security adviser in President Donald Trump's administration two months ago, reminded those listening that
the United States opposed the creation of the Human Rights Council in the first place, and, when he served as envoy to the UN under George W. Bush, had voted against it.
The US announced the withdrawal from the Human Rights Council on Tuesday, with
the current envoy to the UN Nikki Haley calling the council
"protector of human rights abusers and a cesspool of political bias."
The news came right after the UN High Commissioner for Human Rights, who supervises the council, blasted President Trump's immigration policy. Bolton said the idea to ditch the council altogether
"had nothing to do with that." "This decision was made by President Trump weeks ago. It followed long-decision making and the review of the Human Rights Council's performance," he stated. "It reflects a widely-held view in the United States."
World leaders from EU to China have condemned the US decision and praised the council's role in promoting human rights across the globe.
The Russian mission to the UN called the US criticism of the council
"cynical,"
saying: "The US apparently would like to turn the council into an obedient tool to promote its interests and punish objectionable countries."
Meanwhile, Israeli Prime Minister Benjamin Netanyahu has hailed the US step to leave the council as
"courageous."
'Ukraine's Foreign Ministry also expressed support for the US departure from the UNHRC, saying the agency "is in crisis," and is riddled with "negative tendencies."
The UN Human Rights Council was established in 2006. According to its founding resolution, its mission is to
"promote and protect fundamental rights, and deal with major human rights offenders."