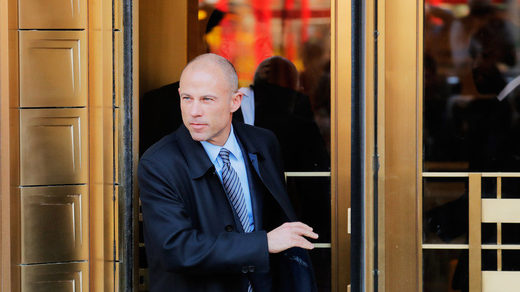 Michael Avenatti, the lawyer representing porn star Stormy Daniels, says he is being targeted by Russia in a smear campaign, for his efforts to hold US President Donald Trump to account for an alleged affair with the porn actress.
Avenatti told the Daily Beast that
the Russian government is trying to damage his reputation by planting negative stories about him in the media
.
"They're doing it because they see me as a threat, a considerable threat," he told the website. "If we weren't a threat, none of this would be happening."

Comment: Get a grip, Avenatti. Just because you're getting bad press, that doesn't mean it's the Russians. But to egomaniacal, hysterical idiots like you, any bad press must be from the Russians, because who else would say anything bad about you?


The Daily Beast acknowledged that the media-savvy lawyer
did not provide any "concrete proof"
along with his seemingly paranoid statement. It said he claimed that some "media figures" and a "high ranking American intelligence official" had told him in confidence about the nefarious Russian plot.

Comment: Then you're either a liar, or a total idiot. Take your pick.


One of the stories allegedly being spread by the Kremlin is that Avenatti once travelled to Moscow and had sexual relations with a number of women while there. "They were trying to claim that I too had taken a trip to Moscow," he said. "I've never been to Moscow in my life. I've never traveled to Russia in my life."
Another story that must have been pushed really hard by evil Russian hackers is that Avenatti has had business dealings with Russian and Ukrainian clients in the past - which, in recent years, has become somewhat of a crime in itself - and that those clients had business relationships with the US government.
Avenatti admitted that the so-called smear campaign against him made him "nervous" and that Russia's sudden alleged involvement "raises the stakes." But the embattled lawyer pledged to fight on.

Comment: Yes, by all means, continue the fight against fictional Russians. At least it's entertaining and doesn't involve any actual people.


"We're not going to pack up and go home. I'm not going to change what I'm doing just because the Russians don't like it," he said.
Daniels is currently involved in a legal battle with former Trump lawyer Michael Cohen. She is seeking to get out of a legal agreement she signed and which prohibits her from speaking about her alleged 2006 affair with Trump - an affair which Trump has denied.