Moscow is content to maintain a balance between the two sides - leaving Iran's forces in Syria while allowing Israel to bomb them - as long as its achievement of saving the Assad regime is not endangered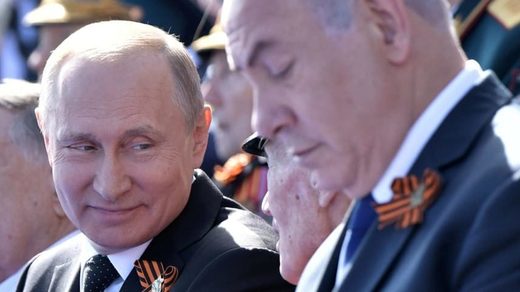 It wasn't just another of Benjamin Netanyahu's periodic visits to confer with Vladimir Putin in one of the Russian president's palatial residences. This time, in addition to the closed meetings, translated by Russian-speaking Environmental Protection Minister Zeev Elkin and
attended by intelligence and military chiefs from both sides
,
the two leaders stood side-by-side under a Moscow spring sun
. On one of the most important dates in the Russian calendar, May 9 - Victory Day, Netanyahu was Putin's personal guest at the annual military parade celebrating the end of World War II.
It was a powerful reminder of how Israel and Russia have built their strategic ties in recent years, achieving if not quite an alliance, then an exceptional and unprecedented level of coordination. It also testified to the geopolitical understandings that Netanyahu and Putin share.
The latest in Russian hardware was on display, from the Uran-9 unmanned robot tank, to the Sukhoi Su-57 stealth fighter. Standing between Putin and Russia's defense minister Sergei Shoigu, Netanyahu reviewed the parade which included also mobile batteries of anti-aircraft missiles.
Less than twelve hours later, on Netanyahu's orders, the Israel Air Force
destroyed at least five Russian-made anti-aircraft batteries
, operated by Bashar Assad's regime in Syria.

Comment: Government, not regime.


Netanyahu's presence at the Victory Day parade and
meeting with Putin
had been in the works for weeks. Neither of them could have known when the visit was first arranged that, only a few hours before Netanyahu was due to take off for Moscow,
Donald Trump would announce
that the United States was pulling out of the Iran nuclear deal. But just before he boarded the plane,
Netanyahu said that "in light of what is happening right now in Syria, there is a need to ensure the continuing security coordination between the Russian army and the IDF."
It may be a bit too far-fetched to say that Netanyahu knew for sure that Iran would choose exactly that night to launch rockets on Israeli positions in the Golan Heights,
but it was certainly in the air
.
If Putin had wanted to give an indication of his displeasure at Israel's strikes on Iranian bases in Syria over recent weeks and months, it is almost impossible imagining him giving Netanyahu such a VIP welcome on Victory Day.
Not only did Putin do everything to play up his guest's presence, but hours after Israel's counter-attack on Thursday morning, the IDF spokesman made it clear that, before Israel embarked on its largest campaign of bombing in Syria since 1974, Russia had been notified through the deconfliction process that the two countries have had in place since September 2015.
Despite
the recent concern in Israel
that the Kremlin may be about to limit Israel's operational freedom in the sky over Syria by supplying the Assad regime with new air-defense batteries, this latest escalation between Israel and Iran on Syrian soil has once again proved that
Putin is prepared to allow Israel a very wide berth
. Russian officials and sources close to Putin's thinking have insisted ever since Russia deployed its forces in Syria nearly three years ago that
the last thing the Russian president wants there is to clash with Israel
. As one veteran Russian diplomat said earlier this year, "Putin knows that the one player in the region who can seriously jeopardize Russia's achievement in Syria of saving the Assad regime, is Israel." In repeated public and private messages, the Netanyahu government has made it clear to Putin that it has no intention of endangering Assad's rule,
as long as Israel's strategic priority of preventing a long-term Iranian military presence in Syria, is upheld
.
Putin currently still needs Iran as the regime's ally, since for domestic political reasons he does not want to risk the lives of Russian soldiers there. Iran has no similar problem as it has press-ganged tens of thousands of Shi'ite Afghani refugees into the Fatemiyoun militias fighting on Assad's side in Syria. But Israel has not been targeting any of these Shi'ite boots on the ground and has focused instead on Iranian-supplied missiles and drones. Russia doesn't need these to prop up Assad, it has its own warplanes in Syria for that.
Israel hoped that Putin would also force Iran to remove its forces from Syria, but it seems there is a limit to the influence the Kremlin has on Tehran.
Russia and Iran are both supporting Assad but that doesn't mean they share the same priorities. Putin can't,
or won't
get the Iranians to leave their strongholds in Syria. But he seems content to allow Israel to continue bombing them.
Now, with the Iran deal dead in the water and the Syrian conflict between Israel and Iran escalating, can Putin continue getting what he wants? Does he risk not only losing the stability of the Assad regime, but also the humiliation of seeing Russian-made weapons systems being destroyed by Israel's Made In America fighter-jets?

Comment: Military gear can be replaced, for a profit. That's not a humiliation. A humiliation would be having actual Russian-owned gear destroyed, and Russian soldiers killed by Israelis. And Israel is not stupid enough to go that far. And if they are, it's the Israelis who should be worried, not the Russians.


For now
he is sticking to his policy of balancing the interests of the two sides
, with Russia pledging to continue supporting the nuclear agreement with Tehran while hosting Netanyahu. But if matters continue to escalate, as they seem to be doing, he will sooner or later have to pick a side.