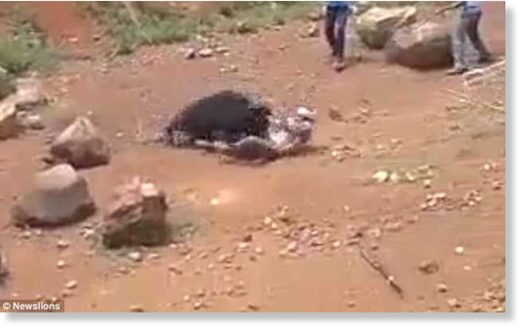 Dramatic footage shows a bear being beaten by a crowd of men with sticks and spears after the animal mauled a man trying to take a selfie with it.
The unidentified victim, 27, was saved by locals in Orissa, India, who sprung to his defence when the distressed animal pounced on him.
Video footage captured by one of the bystanders shows the bear attacking the man as he struggles to escape its grip.
A lot of shouting and screaming can be heard on the recording as locals gathered in huge numbers and tried to free the man.
When the bear refused to let go the mob used sticks and spears to pin it to the ground and beat it to death.
One man can be seen grabbing a boulder and cruelly launching it down at the animal to make sure it was dead.
The man was pulled to safety and escaped with minor injuries.
It is not known if the men came with the intention to kill the animal in the first place.

In the footage they appear to have their weapons at the ready from the beginning.
It is not clear exactly what species the bear belongs to from the footage, though of India's three indigenous bears - the Himalayan Black Bear, the brown bear and the sloth bear - only sloth bears are known to inhabit the area.
Last week a taxi driver was killed by a bear under similar circumstances.