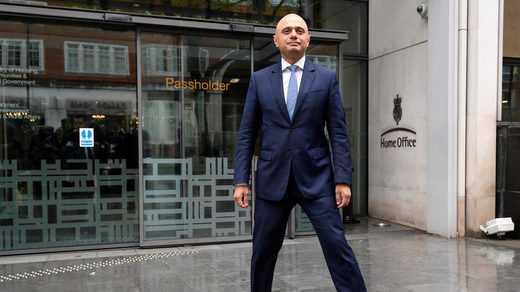 Sajid Javid arrived outside his new place of work at the Home Office with a sense of purpose but he is already being asked questions about his dubious links to a known tax-evading bank.
The UK Supreme Court ruled in 2016 that Deutsche Bank and UBS had set up a "contrived" scheme to allow the banks and their bankers to escape £135mn ($192mn) in tax on bonuses, which was unlawful, according to a Reuters report.
Javid is said to have worked for Deutsche Bank, US President Donald Trump's bank of choice, as a director in 2000 and then as a managing director in 2004. He
left the bank in 2009, when his salary would have been around £3mn ($4.1mn) a year, according to Bloomberg, to start a career in politics.
Labour MP for Leeds East, Richard Burgon responding to the announcement of the new home secretary took to Twitter to highlight Javid's colossal salary at Deutsche Bank and to point out that
he "voted 16 times against a bankers' bonus tax."
When pressed by presenter Jon Snow on Channel 4 News as to whether he knew about Deutsche Bank adopting a system, which
helped them evade British taxes by paying senior employees through a Cayman Island entity, Javid could not confirm that he didn't know about the scheme.
He could only declare that he had "never benefited from such a scheme."
The new home secretary has also faced criticism over his handling of the rehousing of the Grenfell survivors in his previous role as minister for communities and local government. In the immediate aftermath of the Grenfell fire, Sky News reported that Theresa May's government had promised that residents of Grenfell would be rehoused "within three weeks at the latest."
Javid, the minister at the time tasked with making this happen, failed to deliver on this promise. Furthermore, in an address to parliament last month concerning the issue of rehousing, he said that
those left homeless following the Grenfell fire would not be rehoused within the year of the disaster
taking place, according to The
Guardian
.
In an extraordinary claim last month during questions in the House of Commons,
Javid said that pro-Jeremy Corbyn organization Momentum was a "hard left neo-fascist" organization.
This claim could come back to haunt him when one of his tasks as home secretary is to ban terrorist groups, some of whom are neo-fascist, under the Terrorism Act 2000.
Javid's personal beliefs have also come under the spotlight with the
Spectator
previously reporting that he reads the courtroom scene from The Fountainhead - novel by Russian-American author and philosopher Ayn Rand who developed a system called Objectivism - twice a year. The author is lauded by neo-conservatives and libertarians in the US, though adherence to her beliefs is less common in British politics.
The MP explains that the passage is about the "power of the individual," which some may suggest works perfectly with
UK conservatism; neo-liberal individualism over socialist collectivism.
Apparently, the passage didn't go down too well with his now wife, who threatened to leave him if he ever tried to read it to her again.