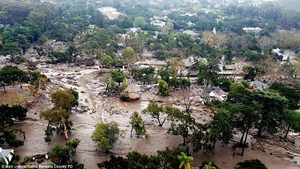 9 January 2018: Mudflows cause at least 20 deaths in Montecito, California
Each of us tend to think we see things as they are, that we are objective. But this is not the case. We see the world, not as it is, but as we are - or as we are conditioned to see it.
- Stephen. R. Covey
Recent Comments
Add Scalia to the Clinton death list. They wanted to lock in a Democrat-leaning majority on the supreme court against even a long-shot Republican...
---
In this mish-mosh liberated world of sex and chaos, they'll have to be fair and equal to all. They'll have to develop dolls that are girl on one...
---
"Another member of the movement explained in a video that the group is concerned that the US "doesn't do nearly enough to assimilate people from...
---
Remember to grab your free alcohol wipe at the door.
---
" The liberal/progressive/left are incapable of understanding that by demonizing white heterosexual males they are demonizing all whites and,...