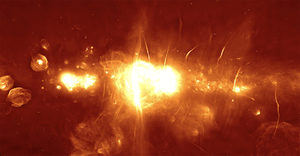 Galactic Center: South Africa's MeerKAT Radio Telescope captured this panorama of the center of the Milky Way. Area approx. 1,000 light-years by 500 light-years
Who controls the past controls the future. Who controls the present controls the past.
- George Orwell
Recent Comments
Ruth Bader Ginsberg has argued about the age of consent being lowered to 12 for the US as well, there is nothing about the US she finds...
---
You're damaging yourself and others around you if the interpretation you design is a self awareness based machine that uses idea to feed upon....
---
I thought weed was legal in PA anyway.
---
says Maas who doesn't want to lose another pfennig from his coffers, though it was contracted so. We should be glad to remove our troops,...
---
As a child, I was accosted, molested, and bribed to acquiesce numerous times (I was in a boys institution) and each one of those lovely people who...